The images we have seen emerging from the aftermath of Typhoon Haiyan in the Philippines show nothing less than a humanitarian tragedy of epic proportions. At the present moment, the storm has claimed the lives of about an estimated 2,500 people, and has caused an estimated $14 billion in damage, although the full extent is not yet known.
As we stare at our television screens wondering if there is something we can do from so far away, it is easy to feel that there is little that can be done. But, when it comes to us as a society, there is actually much that can be done. Just don't plan on our leaders grabbing the bull by the horns any time soon.
Last year at the 67th session of the United Nations General Assembly, the presidents of two small countries took the floor to address their concerns for the foreseeable future. President Christopher Loeak of the Marshall Islands, a small island nation in the Pacific Ocean, spoke up about the responsibility of larger, more developed countries to those who might not be so powerful.
President Loeak said his nation has plans in place to drastically cut its own climate change-inducing emissions.
"I ask the rest of the world if you will also meet us in ambition," Loeak said. "Will it come soon enough?"
G/O Media may get a commission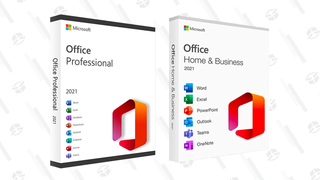 89% off
Microsoft Office Professional 2021 Lifetime License
His concerns were echoed by President Sprent Dabwido of Nauru, another small Pacific island nation speaking at the assembly. Islands like Nauru, and the Philippines, for that matter, will bear the brunt of early manifestations of climate change. But eventually it will hit everyone, he warned.
"Small islands may be the canary in the coalmine, but we are all staring a global catastrophe right in the face," he said.
The archipelago of the Philippines is made up of more than 7,000 of these kinds of "small islands," many of which contain some of the most densely populated areas in the world. So when an area like the Philippines gets hit, it's not like a few trees fall down and that's that: it becomes a global tragedy.
Superstorms like last year's Hurricane Sandy and the recent Typhoon Haiyan have been increasing in frequency. They largely affect low-lying areas, many of which are developing third world nations. Many point to climate change as a direct cause of these kinds of storms.
There is one positive thing this massive incident may bring to the table. It might convince governments of developing nations that they have a responsibility to their smaller counterparts, who have less ability to protect themselves from such disasters.
In the meantime, developing countries might feel that increasing evidence of climate change is an inconvenience, or that reacting accordingly might be incompatible with the demands of modern life.
Just maybe, that may no longer be status quo.
During that same UN General Assembly last year, UN Secretary General Ban Ki-moon announced that larger governments must not be complacent, and start creating policy that reflects the dangers of climate change.
"The severe and growing impacts of climate change are there before our eyes – yet too many people in power seem willfully blind to the threat," said Ban. "This is a time of turmoil, transition and transformation – a time when time itself is not on our side."
Those words were spoken a week after a study was released, stating that disasters related to climate change have the potential to cost the lives of more than 100 million people by the year 2030.
A little more than a year and two superstorms later, nothing has changed. However, the UN's Climate Change Conference began on Monday in Poland's capital Warsaw. During the conference, Yeb Sano, the delegate for the Philippines, pledged to fast until meaningful progress has been made concerning climate change.
With this disaster in the Philippines on the eyes and in the hearts of many, hopefully it will be time for us to address this head-on with firm policy. Because if not now, when?
Daniel Rivero is a producer/reporter for Fusion who focuses on police and justice issues. He also skateboards, does a bunch of arts related things on his off time, and likes Cuban coffee.