Critics of a Texas law that requires voters to present specific documents to cast a ballot will argue Tuesday that the policy unfairly burdens minorities in a case that could ultimately have national implications.
In 2011, Texas passed a law that asks voters to show one of seven forms of identification, including a Texas driver's license, a Texas identification certificate issued by the state's Department of Public Safety, or a Texas concealed handgun permit.
Out-of-state driver's licenses, Texas student IDs, or expired driver's licenses are not acceptable.
While the state and others have said the law, which is among the strictest in the nation, is necessary to prevent voter fraud, opponents have said it discriminates against minority voters, who are disproportionately likely to lack an accepted form of ID.
In total, the Justice Department and other opponents of the law suggest that about 600,000 registered Texas voters, overwhelmingly minorities, do not have the correct form of ID. They argue that African-American registered voters are 305 percent more likely than white registered voters to lack the proper ID, while Latino registered voters are 195 percent more likely.
G/O Media may get a commission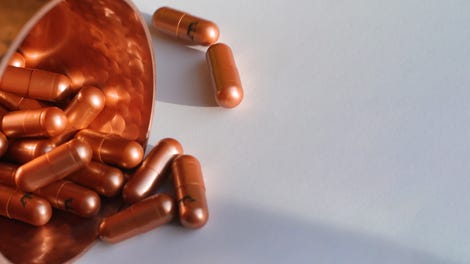 health
The Lyma Supplement
The restrictions were enacted by the Texas legislature "purposely to discriminate against minority voters," said Myrna Pérez, deputy director of the democracy program at the Brennan Center for Justice, which opposes the Texas law.
According to the Brennan Center and other advocacy groups, dozens of elderly citizens with expired licenses and college students with non-Texas IDs were forced to cast provisional ballots, many of which were later tossed because the voters did not return and present one of the acceptable forms of ID within the six-day window allowed.
Last November, Houston-resident Felicia Davis showed up to her polling place with her voter registration card, a Georgia driver's license, and electric and gas payments with her Texas address on them.
The 47-year-old, who says she has voted regularly since she turned 18, was told to fill out a provisional ballot. But, according to Davis, the poll worker didn't tell her that she needed to return with a different, valid form of ID to have her vote count.
"She never told me my vote wouldn't be counted," Davis told Fusion, adding that she only found out her ballot had been tossed when she received a letter saying as much weeks later.
And she's not inclined to take the steps the law would require to prevent the issue from happening again because getting a Texas identification certificate would mean giving up her Georgia driver's license.
"Why would I trade in my driver's license?" she asked. "I'm not going to do that. That's not even up for discussion."
Why not get a Texas driver's license? Davis said that's too difficult because she works during the hours the DMV is open and cannot take time off.
Davis's struggle is not unique, advocates say, and instances of in-person voter fraud are almost nonexistent. Yet Texas has steadfastly supported the legislation and other states, including Kansas and Mississippi, have also introduced voter ID laws, thrusting opponents, like the Brennan Center, and states into long, contentious legal battles.
"Safeguarding the integrity of our elections process is a top priority of [Texas Attorney] General Ken Paxton's administration and is essential to preserving our democracy through preventing voter fraud and promoting voter confidence," said Cynthia Meyer, spokeswoman for the Texas attorney general in an email. "The U.S. Supreme Court has already upheld a similar voter ID law in Indiana (Crawford v. Marion County Election Board), which the district court defied when it erroneously invalidated Texas' law. We will continue to uphold the will of Texans and defend the state's voter ID law."
On Tuesday, the Texas law will be back in the spotlight.
The law was originally blocked in 2012 by Section 5 of the Voting Rights Act, which required states with a history of discrimination to get approval before changing their voting requirements. But the Supreme Court crippled Section 5 in 2013 and Texas immediately said the law would take effect. Then in the fall of 2014, the law was struck down using a different part of the Voting Rights Act called Section 2, also designed to prevent discrimination. While the Supreme Court blocked that ruling, allowing the law to take effect ahead of the November 2014 election, opponents of the law hope the appeals court hearing the case Tuesday will agree that the law should not remain in place.
Regardless of the ruling, the Texas fight is among the most convoluted and will likely make its way all the way to the Supreme Court. Opponents of the law hope the high court will decide that not only is the Texas law unconstitutional and discriminatory, but strict photo ID laws in around the country are unconstitutional.
While those advocates have a shot, it may be an uphill battle and there's no firm guarantee the court will hear the case.
Yet Perez is cautiously optimistic.
"We are at a unique moment in time," she said, adding that she is confident the Texas law will ultimately be struck down but that advocates must remain on alert. "Before 2016, we need to be vigilant to see if other state legislatures take action."
Emily DeRuy is a Washington, D.C.-based associate editor, covering education, reproductive rights, and inequality. A San Francisco native, she enjoys Giants baseball and misses Philz terribly.