Some men are as impossibly chiseled as Zac Efron. Some men are as slender and svelte as Lucky Blue Smith. But there are plenty of men who don't look anything like either of the two individuals I just mentioned, and a lot of those men like to wear clothes. (Some even like to feel cute and fashionable while doing so.) That's why it's kind of a big deal that IMG Models recently launched a division dedicated to signing plus-size male models.
Models like Zach Miko.
Zach Miko is the first person to be signed to IMG's growing roster of plus-size male models, Women's Wear Daily reports. But instead of calling them "plus-size models" or something outmoded like "big and tall," IMG—one of the largest model management firms in the world—has opted for the term "brawn models."
"Brawn has a body positive message," IMG president Ivan Bart told WWD. "Brawn is physical strength." This parallel drawn between large stature and masculinity irks me as it seems to erase the existence of fat femmes entirely, but hey—at least they're trying.
G/O Media may get a commission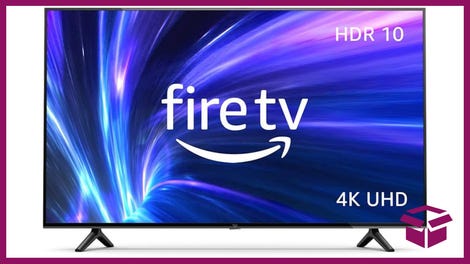 42% Off
Amazon Fire TV 50" 4K Smart TV
The world of women's fashion has been having similar conversations about size and beauty standards for years, and the success of plus-size models Precious Lee, Ashley Graham, and Tess Holliday is evident of that shift. With the signing of Zach Miko, IMG president Ivan Bart hopes to spark a similar dialogue among men.
"I want every man in America to say, 'I can do that' when they see Zach," Bart told WWD. "The body positive messaging and size diversity is something that's relevant and something that continues to be on everybody's mind. We have to extend the conversation for men."
I was unable to reach Zach for comment. But the model—who stands tall at 6'6" with a 42" waist—took to Instagram Tuesday to celebrate the announcement: "What an honor to finally announce I have signed with @imgmodels I am so grateful and humbled"
True, Zach does not represent all men; he probably doesn't even represent most men. But he does represent a large swathe of men who have historically struggled to find themselves reflected in media imagery. Hopefully his inclusion signals broader representation to come.
Nobody (and no body) needs validation from the fashion industry to consider themselves valid. But as long as we live under some bullshit framework where media-perpetuated beauty ideals are a thing that exists, this little bit of representation does go a long way.
Bad at filling out bios seeks same.