A few Solo cups scattered on the ground, left behind from a night of revelry, isn't a rare sight on most college campuses.
But at George Mason University, students walking to class this morning found 3,440 red plastic cups lined up in the middle of campus—a demonstration by student activists to symbolize the number of female students at the school who they say will face sexual assault this year.
"When I first saw that number, I was shocked," Emma Copeland, one of the students who organized the display, told Fusion. "I wanted to make other people feel that shock, by personalizing it."
G/O Media may get a commission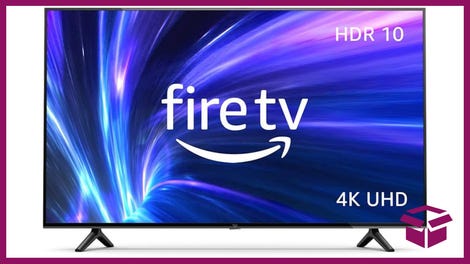 42% Off
Amazon Fire TV 50" 4K Smart TV
The 3,440 number is based on the statistic that one in five female college students have faced sexual assault during their time at college. George Mason, the largest university in Virginia, had an enrollment of 33,723 last year, and Copeland used data from the Department of Justice to estimate the number of victims in 2015.
"A lot of times you hear that one in five statistic and you think, whoa, that's a lot, but the conversation doesn't really go beyond that," Copeland said. Students who have walked by the display have been talking about personal stories. "I heard a lot of, 'Oh, my friend is dealing with this right now,'" she said.
Ángel Cabrera, the university's president, responded to the demonstration in a tweet:
While the accuracy of the "one in five" statistic has been hotly debated, a new national survey released in June backed up the data.
Several sexual assault allegations at George Mason have made headlines in the last year, including one case in which a student expelled for sexual misconduct sued the university, arguing that his alleged rape was just BDSM.
The Solo cup demonstration was planned by the university chapter of the Roosevelt Institute, a national student group that promotes progressive policies. It's part of a larger effort at George Mason to study campus sexual assault and possible solutions.
"We have to make sure we're not just stopping after we have the conversation… we have to have next steps, and actually address the issue," Copeland said.
Casey Tolan is a National News Reporter for Fusion based in New York City.