Everyone knows Donald Trump is a racist, and key members of his staff—such as senior policy adviser Stephen Miller, for example—are known to espouse white supremacist views. But a shocking level of bigotry and a lack of diversity in the nation's top executive office also is glaringly reflected in the staffing decisions in the West Wing.
A report by Politico on Saturday pointed out that the White House is about to become even whiter when Deputy Press Secretary Raj Shah steps down, likely after confirmation hearings for Trump Supreme Court nominee Brett Kavanaugh.

Shah's departure would follow the exit of communications staffer Steven Cheung and director of media affairs Helen Aguirre Ferré, Politico noted, and "the overwhelming share of people who advise the president on a daily basis, from his most trusted senior staffers to many of his Cabinet secretaries to his former campaign staff, are white."

Politico's analysis found that of the 55 highest-paid White House staffers, only about six were non-white. That includes director of strategic communications Mercedes Schlapp, deputy chief of staff Zachary Fuentes, director of management and administration Marcia Lee Kelly, and legislative affairs staffer Joyce Meyer.

"It's not something that's going to get better by accident. It's something that gets better when people at the top prioritize it," Max Stier, an adviser to Trump's transition team, told the news site.

G/O Media may get a commission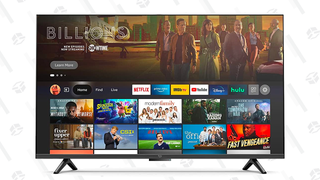 22% off
Amazon Fire TV - 50" Omni Series 4K - Early Access Deal
This snapshot of a truly "white house" becomes even starker when considering Trump's ongoing racist commentary lately, mostly via Twitter. As Politico pointed out, Trump loves to repeat the claim that black and Hispanic unemployment figures are at an all-time low, while neglecting to mention that they are part of a consistent downward trend initiated under the Obama administration.

"I am proud to have fought for and secured the LOWEST African American and Hispanic unemployment rates in history. Now I'm pushing for prison reform to give people who have paid their debt to society a second chance. I will never stop fighting for ALL Americans!" Trump tweeted on Saturday.

The idea of Donald Trump fighting for anything that benefits African Americans and other people of color is laughable. Especially since Trump has gone back to stirring racial animosity this week to divert attention from the gathering legal storm over the Russian investigation and to rally his racist Republican base ahead of November's upcoming midterm elections.

Trump's Twitter attacks in the past week have (again) targeted LeBron James, Don Lemon, Maxine Waters, and black NFL players, among others. Meanwhile, he praised Kanye West for telling "the TRUTH."

On Friday, Trump tweeted: "The NFL players are at it again - taking a knee when they should be standing proudly for the National Anthem. Numerous players, from different teams, wanted to show their 'outrage' at something that most of them are unable to define. They make a fortune doing what they love…

…Be happy, be cool! A football game, that fans are paying soooo much money to watch and enjoy, is no place to protest. Most of that money goes to the players anyway. Find another way to protest. Stand proudly for your National Anthem or be Suspended Without Pay!"

In another tweet, Trump said he was "honored" to have inherited the fruits of the Obama administration's efforts:

"Thank you to Kanye West and the fact that he is willing to tell the TRUTH. One new and great FACT - African American unemployment is the lowest ever recorded in the history of our Country. So honored by this. Thank you Kanye for your support. It is making a big difference!"

Also this week, promotions of former White House aide Omarosa Manigault-Newman's forthcoming book "Unhinged" included allegations that had previously circulated about Trump's frequent use of the N-word during tapings of his reality show "The Apprentice," along with additional racial epithets Manigault-Newman accused Trump of using against people of color, including White House adviser Kellyanne Conway's husband. (George Conway, however, called these accusations "absurd" and "not credible.")

All of this takes place against the backdrop of Sunday's "Unite the Right 2" rally of white supremacists and neo-Nazis in Washington, and the one-year anniversary of the violent rally in Charlottesville, VA. Facing constant reminders that last year, Trump delivered his infamous remarks stating that "many sides" were responsible for the violence, the president weakly tried to ward off the criticisms while tacitly sticking to his "both sides" nonsense.

"The riots in Charlottesville a year ago resulted in senseless death and division. We must come together as a nation. I condemn all types of racism and acts of violence. Peace to ALL Americans!" he tweeted on Saturday.

The Trump administration's reaction to all of this is perhaps best summarized by a comment from White House press secretary Sarah Huckabee Sanders late last year, after Manigault-Newman was fired.

"We have a really diverse team across the board at the White House," Sanders said, according to Politico.