No more speculative thinkpieces about who should take the mantle from Jon Stewart. The New York Times reports that Comedy Central has chosen a new host for The Daily Show: 31-year-old comedian Trevor Noah.
Noah has only appeared on the show as a correspondent 3 times, but everyone at the network is really excited to see what he'll do in this new role, including Stewart himself who told the Times:

"I'm thrilled for the show and for Trevor… He's a tremendous comic and talent that we've loved working with." Mr. Stewart added that he "may rejoin as a correspondent just to be a part of it!!!"
This also marks a huge, historic move for Comedy Central: With Noah leading the 11pm news cycle for the network followed by former Daily Show correspondent Larry Wilmore's The Nightly Show, the network will have the only full hour of non-white late night hosts. Noah, currently on tour in Dubai, retweeted this from Chris Rock, tipping his hat to acknowledge it.
G/O Media may get a commission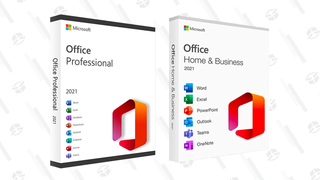 89% off
Microsoft Office Professional 2021 Lifetime License
"No one can replace Jon Stewart" seems to be the party line, with Comedy Central president Michele Ganeless mentioning it in the Times article and Noah putting forth a tweet saying the same. I think it's good that they knew that going into their search, and ended up with someone who can bring a fresh, youthful perspective to American culture and politics.
Ganeless and the Times also addressed the public outcry that a woman should replace Stewart.

But the decision also invites questions about Mr. Noah's experience and visibility (or lack thereof), and why the network did not choose a woman to crack the all-male club of late-night television hosts.

Michele Ganeless, the Comedy Central president, said in an interview: "We talked to women. We talked to men. We found in Trevor the best person for the job."
At least Noah has a good perspective on his new job:
Mr. Noah said he expected to be criticized and second-guessed long before his first episode as host. "We live in a world where some people still say Beyoncé can't sing," he said. "Clearly I'm not immune to that."
Meanwhile, check out Trevor Noah's funniest 'Daily Show' clip (about chess!) here.
Danielle Henderson is a lapsed academic, heavy metal karaoke machine, and culture editor at Fusion. She enjoys thinking about how race, gender, and sexuality shape our cultural narratives, but not in a boring way.