"Did I drink too much? Am I losing touch? Did I build a ship to wreck?" Florence Welch sings on the lead song of her new album. How Big, How Blue, How Beautiful, released on June 2, is Florence + The Machine's third studio album and it takes Welch's penchant for massive emotional upheaval to another level.
Welch is a risk taker. In the early planning phases for this album, she wanted to create a high-concept album "about a witch that goes on trial for murder in Hollywood," she recently told the L.A. Times.  She was, as Lindsay Zoladz wrote for Vulture, promptly shut down by an older, wiser producer.
On stage Welch spins, often enshrined in a cape, her mane of red hair flowing behind her. "I'm quite shy, really — that's probably why I used to drink a lot. But I don't anymore. When I finally took time off to make this new record, I had time to strengthen," Welch told Rachel Syme in a profile for Billboard. "And when I was coming back into the fray, I really didn't want to lose that. I thought I could go dive-bomb back into it, but look what happened. I dived into it and literally broke myself."
She's referring to her performance at Coachella this Spring, Welch's third show back after a year off from touring. She was opening for Drake on the main stage when she stripped down to her bra, and—in an effort to join the dancing fans—jumped from the stage and snapped her ankle.
G/O Media may get a commission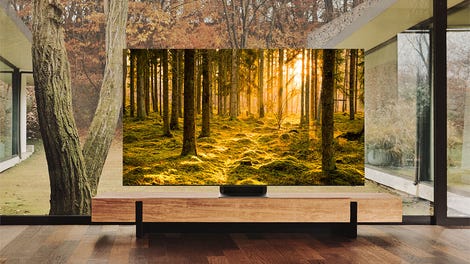 Up to 40% off
Samsung Smart TVs
Welch started making music at 18 with a friend. She dropped out of college to play in London bars and clubs before landing herself at South by Southwest in 2008 and being invited to open for MGMT. Since then, she released her 2009 debut album, Lungs — which reached No. 14 on the Billboard 200, and sold 1.3 million copies — and a 2011 follow-up, Ceremonials, which landed at No. 6.
Welch has built her discography out of a brutal evaluation of the feelings society so often tells women don't matter. Her work has a kind of rabid anger, steeped slowly in mesmerizingly careful thought. How Big, How Blue, How Beautiful is the story of a crumbling relationship that turns, as the record does, into the story of a breakup that leaves one side — Welch's — devastated.
The devastation comes with serious questioning. "What was it that I said? / I can't help but pull the earth around me to make my bed," she cries in "Ship to Wreck." The playfulness of her first album — which shined on songs like "Kiss with a Fist," where an upbeat guitar rift coupled with chanting lyrics told the tale domestic abuse — has been toned down into melodies that haunt as well as they enchant.
As she told Syme: "This new album comes from a quieter place, one that is less grand and more vulnerable, and it wouldn't feel right to try to put up walls again."
Welch isn't quite an A-lister at this point. She's friends with Taylor Swift. She recorded a song — "Sweet Nothing" — with Calvin Harris, and she's performed on SNL, but she hasn't quite had that big break through. She hasn't had a Top 10 hit yet, but her music is certainly some of the strongest pop being made right now.
Her voice has incredible range and power. Her melodies are crisp and expansive. On songs like "What Kind of Man," she's accusatory, furious, emotional, and magical all at once. Her performance of the song on SNL was easily one of the season's best:
Seated on a stool dressed in shades of white with her firey hair glowing, Welch exuded magnetism as she hollered into the microphone. The performance is almost 4 minutes long, but it feels so much briefer.
"Can you protect me from what I want? / The love I let in, it left me so lost," Welch sings on the album's closing track, "Mother." But it's that lack of protection, that vulnerability and anger, that makes this album great.
How Big, How Blue, How Beautiful is a turning point for Welch, if a subtle one. The passion of her first two albums is there, but with it a smart, brave maturity. It's her best album yet, and it feels like a bit of a shift onto a louder, less complacent path. One that, if we're lucky will bring out more of Welch's complexity of emotion and more of her charm.
Listen to How Big, How Blue, How Beautiful right here.
Kelsey McKinney is a culture staff writer for Fusion.