No one puts Joss Stone in a box.
The British songstress releases her seventh studio album on Friday. She is 28 years old, and no stranger to the top of the charts, but somehow she manages to reinvent herself on every album — for better or for worse.
Joss Stone's debut album The Soul Sessions won the Mercury Prize and went multi-platinum in 2003. Stone made most of her impact in the U.K. In 2004, at just 17 years old, Stone became the youngest British female singer to top the U.K.'s Album charts.
The Soul Sessions showcased Stone's incredible vocal talent. Drawing on the history of American soul, Stone reimagined songs from several genres and various artists, from The White Stripes to her idol, Aretha Franklin.
"Aretha Franklin was one the first singers that I saw on television," Stone told Rolling Stone in 2012. "She was the most amazing voice I'd ever heard. I was 10, I think. I had to go and get a pen and paper and write down her name."
G/O Media may get a commission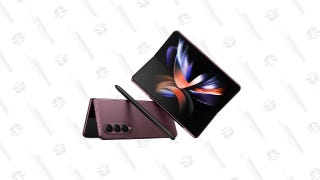 Save Up to $300
Galaxy Z Fold4
On her first album of original material, Mind, Body, & Soul, Stone continued in the soul-inspired, full-bodied sound of her debut. Songs like "Right to Be Wrong" and "You Had Me" hit the mainstream with a momentum that rocketed Stone to her first number one album in Britain. In the U.S., Mind, Body, & Soul hit number 11 on the Billboard Top 200 albums chart.
"You Had Me," in particular, had the groove of deep South Soul with the story of a country break-up song. It was anthemic, and angry, and sported an immense and interesting vocal range that twisted and pulled notes into emotions.
Stone was, of course, soon surpassed by her contemporary, Amy Winehouse, who not only created more news than Stone, but had a more distinctive vocal quality and a lyricism that Stone simply couldn't match. But part of the reason that Winehouse became a bigger name — earning more fame and recognition —  is that she found her niche and stuck to it.
Stone, instead, twisted and turned her career. Over six albums, she's hopped through several genres, from straight soul, to rock and even reggae. This constant shifting makes her one of the most interesting artists to watch, but also one of the most easily forgettable.
At 28, Stone has the voice of an old soul, but it doesn't feel like she's really figured out who she is as an artist or as a person. Maybe this is a result of her early rise to fame and youth spent in the spotlight, but each album Stone has released seems like a step in a different direction instead of a step forward.
The first single from Stone's new album, "Stuck on You," is closer to her original sound — the one that she's maneuvered away from.
Unfortunately, "Stuck on You" is on an album so heavily inspired by reggae that it doesn't come any closer to giving Joss Stone the identity she needs to create music that truly resonates. But with that voice, we'll still listen to her try. Joss Stone's new album Water for Soul comes out this Friday, July 31.
Kelsey McKinney is a culture staff writer for Fusion.