Lean Cuisine is getting a makeover. After years of declining sales, Nestle's rhyming frozen diet brand will soon try to convince women everywhere that its products are not about weight loss, per se, and more about "healthy eating and healthy lifestyles," according to Jeff Hamilton, president of Nestle's prepared food division. They'll have what Kashi and Lululemon are having, please.
What's the plan? So far, Lean Cuisine says it will redesign its classic white box and give it a less diet-y look. (Basically, Lean Cuisine boxes are trying too hard.) They'll also showcase whole ingredients and offer more "ethnic" dishes—you know, for the conscious global citizen who wants a healthy alternative to Panda Express.
This overhaul is exciting and all, but one element of the Lean Cuisine legacy remains up in the air: the Lean Cuisine ladies. The classic genre of women culled and perfected through decades of Lean Cuisine ads that embody the calorie-conscious, basic yuppie, akin to women laughing alone with salad.
With every Lean Cuisine commercial, the brand adds a little bit more to the police sketch that is its ideal customer. Of course, if a frozen hunk of noodles and chicken are the most exciting part of your Friday night—I'm sorry, but it may be time to rethink some things. Treat yourself and order delivery, girl.
We gathered ads from Lean Cuisine's history to examine how the brand's portrayal of women has evolved through the decades. (Lean Cuisine launched in 1981, but the earliest commercial available on YouTube is from 1982.) And now, without further ado, let us present The Lean Cuisine Lady: A Ridiculous Retrospective.
G/O Media may get a commission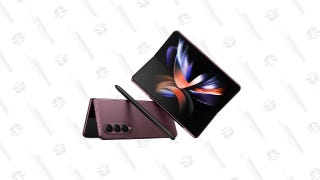 Save Up to $300
Galaxy Z Fold4
1982: First, some light humble bragging.
1984: "Look at us. We're getting lean. And lean is looking good."
1986: Who is the Lean Cuisine lady? She's a hard-working businesswoman. But don't be too quick to judge—she's also a sexy bod who makes all the heads turn on the beach. Thanks, Lean Cuisine.
1987: Why yes, that is Lisa from Coming to America!
1987: Nothing says "high fashion" like all-white everything.
1989: Now, when I think about the ideal, hardworking, head-turner of a woman, one Lean Cuisine lady comes to mind: Country music sensation and original country hipster Barbara Mandrell.
1990: The 90s have arrived, and women have ditched their shoulder pads and backcombing for high-waisted jeans and suspenders. The Lean Cuisine lady is edgy—but even she can't resist the taste of Lean Cuisine (which has apparently figured out how to animate italics).
1993: Of course, the edgy Lean Cuisine girl has a workaholic counterpart, because Lean Cuisine is for everyone!
1996: By the time we hit the mid-90s, minimalism and dark blue filters are in, as is jazz-rap. The new face of Lean Cuisine? Lorelai Gilmore. People, this is peak Lean Cuisine lady.
1999: But as we approach Y2K, it looks like the Lean Cuisine lady has actually made a friend! Another lady! They're regular ol' chatty Cathys, a family friendly take on Sex and the City's galpalism.
2001: It's the twenty-first century, and it's time for men to come into the Lean Cuisine fold. The Lean Cuisine lady is no longer single and ready to mingle—she's got an out-of-shape and balding husband she needs to feed, but at least she has her wicked sense of humor, right? RIGHT?
2004: Welcome to 2004. People are name-dropping Atkins, but we're all about being real, girls. Dieting is hard, but you know what isn't? Lean Cuisine.
2007: A few years later, we're back at work. All the dumpy ladies at the office are dieting and putting themselves through hell and back, but alas, the clever Lean Cuisine lady has found a better option!
2012: Fast forward to 2012, and the Lean Cuisine lady is chic and fashionable. And so is Lean Cuisine.
And just when you thought things couldn't get any more ridiculous:
Black and white and more of the same in 2013. Whether you're a fashionista or leaning in, you better be on Lean Cuisine.
The Lean Cuisine lady may have gone through more than 30 years of change, but one thing remains the same. She's just an ordinary woman whose life and entire sense of self are dictated by her eating habits. The Lean Cuisine lady is the embodiment of the comical notion of "having it all" while dieting. Hopefully, with its upcoming rebranding, Lean Cuisine can stop trying to sell these caricatures of modern women and just keep it real.