The phone call Monica Morales received from her mother yesterday lasted one minute.
A detainee in Texas arrested after crossing from Mexico to the U.S., Francisca Morales Macías told her daughter that she'd been transferred to a new detention center across the state. "She said they had her isolated, that she couldn't do anything, she was only allowed to be in her room, she couldn't talk to nobody," Morales said. And then the line went dead.
Advocates say Morales Macías' transfer and apparent solitary confinement was retribution for leading a hunger strike among detainees at the T. Don Hutto Detention Center in Taylor, Texas. Activists said the strike began last Wednesday night with about 27 women and has since grown substantially.
But a full week after activists claim the strike began, Immigration and Customs Enforcement officials continue to insist that no detainees in the facility, which is run by private prison company Corrections Corporation of America, are on a hunger strike. 

"ICE takes the health, safety, and welfare of those in our care very seriously and we continue to monitor the situation," spokesperson Adelina Pruneda said in an email. "Currently, no one at the T. Don Hutto Detention Center was identified as being on a hunger strike or refusing to eat." It's not unusual to move detainees between facilities, she said, adding that she can't comment on individual cases. The prison companies referred comment to ICE.
G/O Media may get a commission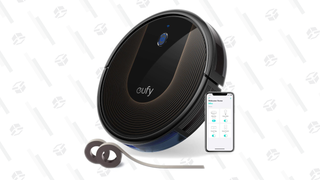 48% Off
Eufy BoostIQ RoboVac
Cristina Parker, an activist with the anti-detention group Texans United for Families, said she's not sure exactly how many women are currently on strike, but it has grown. One of the original women told activists that casi todo—almost all—of the women were on strike. She was likely referring to all of the women in one section of the prison, Parker said.
"We're trying to figure out what she means by that," Parker said. "We know it spread, but she might mean all the women in her section." There's no evidence that all or most of the about 500 women in the detention center are on hunger strike, as some news organizations have reported, Parker said.
According to activists and family members, several of the ringleaders of the hunger strike have faced retaliation from ICE. Parker said Honduran detainee Insis Maribel Zelaya was placed in solitary confinement this weekend, and Morales Macías and another detainee, Amalia Arteaga Leal, were transferred out of the center.
Maribel Zelaya wrote in a letter released by Texans United that "they have separated me from my friends they have me in a very cold room… I feel like they are treating me like a criminal it's an injustice."
Pruneda, the ICE spokesperson, said there's no solitary confinement facilities in the Hutto center.
Morales Macías, who advocates say was one of the first detainees to start a hunger strike, was moved to South Texas Detention Center, in Pearsall, south of San Antonio on Monday. It's run by another private prison company, the GEO Group.
She was transferred without any notice to her family or lawyer. There was only that one-minute phone call. "Since then we haven't had any communication with her," her daughter Monica, a DREAMer who lives in Amarillo, Texas, told me.
Her lawyer, Frances Valdez, said she had trouble getting answers from ICE about her client. "They said they transferred her for medical reasons. I asked what medical reasons and they said they didn't know. And then the next day then said, 'Oh she's fine,'" Valdez said. "Really what it is, is retaliation for the hunger strike."
Francisca Morales Macías came to the U.S. in April. She was running from her ex-husband, who Monica Morales said abused her. She's from Chihuahua State, which has the highest rate of murders of women in the country. "The government in Mexico wouldn't do anything because he has a lot of family members working in the federal government," Monica said. "Nobody would help her."
She tried to cross the border and was detained. Morales Macías asked a court for a Withholding of Removal, a legal order letting people facing persecution at home stay in the U.S., but was denied. She's now waiting on an appeal, and is kept locked up during the legal process; if her appeal is rejected, she'll be deported home.
ICE has the ability to parole her and other detainees during their appeals, Valdez said.
"In this country, when people come and ask for help because they're fleeing violence… we welcome them in detention facilities that treat them in subhuman conditions," Valdez said. "It's un-American."
Francisca's hunger strike began Oct. 22, Monica says, after she was fed "rotten milk and halfway cooked cakes." Since then, she told family members, she was had been drinking fluids but not eating solid food. And over the past week, since news of the hunger strike broke, her family says they would have their phone calls get cut off. "As soon as she would say she was still on the hunger strike, they would end the conversation," Monica said.
For now, Monica said, she's just hoping for the best.
"I am worried about her health, but then again, I cannot not support her because…this is the only way she has to have somebody look at her case," Monica said. "I'm praying and asking God that the people that are in charge of looking at these cases actually have a heart."
Casey Tolan is a National News Reporter for Fusion based in New York City.