Women comprise 51 percent of the population, but are abysmally underrepresented when it comes to jobs in Hollywood. For instance: Men are hired to direct movies 90 percent of the time, according to a new Hollywood Diversity Report.
"Hollywood is not progressing at the same rate America is diversifying," says Darnell Hunt, the lead author of the report, created by UCLA's Ralph J. Bunche Center for African American Studies. Released February 25, the study confirmed that Hollywood has a woman problem right now (although it hasn't always been that way — check out The Nation's piece, "When Hollywood Wasn't So Male"). The report also confirms some alarming information, like the fact that those holding executive positions at TV studios are 96 percent white and 71 percent male, and the executives at film studios are 94 percent white and 100 percent male.
You read that right—ONE HUNDRED PERCENT MALE.
(Sony co-chair Amy Pascal was not included in the data from 2013 — her singular presence would not have made much of an impact, anyway.)
Minorities comprise 37 percent of our country but are massively underrepresented in film and TV shows. According to Hunt and co-author Ana Christina Ramon, the audience isn't to blame—diversity actually makes more money, and, as Ramon told The Hollywood Reporter, "Audiences, regardless of their race, are clamoring for more diverse content." The report finds that the problem rests in the studios, networks, agencies, and guilds that result in "an industry culture that routinely devalues the talent of minorities and women." Beyond the Lights director Gina Prince-Bythewood agrees. She told Indiewire, "I feel bad and I think David Oyelowo said something very profound when he said that black actors are not celebrated when they play strong, positive characters. I think that can be said of black females as well."
While the rest of the country tries to follow rules and laws that prevent discriminatory hiring, Hollywood seems turns its back to the issue entirely, dares you to be offended by their lack of effort, then tries to convince you that they're powerless to change the rules. The prevailing mindset seems to be that if you can't stand the heat, maybe you didn't belong in the kitchen in the first place.
G/O Media may get a commission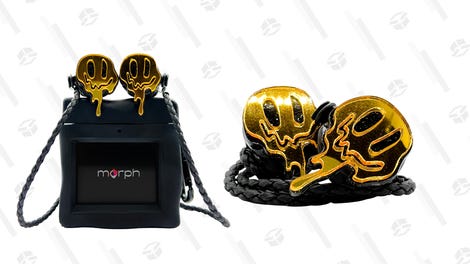 morph audio
Morph Earphones
Slowly but surely, people are trying to disrupt the overly white, overly male power structure that plagues the world of media, and one thing is clear: Women are teaming up all over the industry to break up the testosterone-driven frat party that is Hollywood.
Following the success of her Golden Globe-winning Amazon original series Transparent, producer, writer, and director Jill Soloway is developing a new feminist TV show for MTV with UCB alumna Ashley Skidmore and Lyle Friedman. She's the most recent in a group of Hollywood heavy hitters developing work with other women—Amy Poehler is the executive producer for Broad City; Oprah Winfrey is teaming up with Selma director Ava DuVernay as the executive producer of Queen Sugar, a show they're developing for the OWN network based on Natalie Braszile's book of the same name; and Reese Witherspoon produced and starred in the movie Wild after falling in love with author Cheryl Strayed's memoir. While this sort of sisterhood is as uplifting as it is encouraging, these deals are still business decisions: What does it mean for the industry? Would these movies or TV shows have been made without another woman stepping in to do the heavy lifting? Is TV just a better place for women to tell their stories?
In a word: Yes.
"The logistical, less mushy reason has to do with the fact that there are simply WAY MORE opportunities in TV for human people, period," says writer and producer Julie Klausner. "But television, because it's a collaborative medium by its nature, has always been better for women. In general we help each other, we work together, and —again, generally—aren't known for pulling megalomaniacal Kubrickian shenanigans or make Lily Tomlin cry or other cuckoo things you hear about male film directors doing."
"Ultimately, in TV there are just more chances to make stuff—and GOOD stuff!—plus a climate that's, because of its multiple platforms and channels, inherently more diverse than any other," Klausner continues. "And that paves the way for a more inclusive environment. In other words, it's not weird when a woman goes in to pitch a show."
That sentiment doesn't seem to apply to the film industry. In recent years, the film industry has failed to increase opportunities for women across the board. The Bunche Center study shows that women had lead acting roles in only 25 percent of films studied in 2011, and directed only 4 percent of all films that year. Women are actually more at odds trying to secure director roles than minorities, who directed 12 percent of films that year. No one wants to compare minorities when it comes to who's getting a bigger slice of a crap-filled pie, but it's worth noting that there does seem to be some sort of process of elimination that still has women coming out worse for wear. The L.A. Times analyzed all films produced at major studios within a 6-year period, and found that men were hired to direct over 90 percent of the time.

Every single studio hired a male director over 90 percent of the time during the years studied. One of [Amy] Pascal's numerous legacies will be that, in her final six years atop Sony, 8.7 percent of its projects were directed by women.
"I don't know a lot about film," Klausner says, "but the fact that everyone was talking about Ava DuVernay like she's a unicorn, that worries me and makes me think film is a harsh petri dish of sexism, scarcity and struggle."
A 2014 survey by the Center for the Study of Women in Television shows that women directed 7 percent of the 250 top grossing films, but that 3 percent increase doesn't include films overall. In fact, if you look at a side-by-side comparison of film jobs staffed by men and jobs staffed by women, it seems that women behind-the-scenes have barely had any mobility in the film industry since 1998.
Television is a little better. Women account for 51 percent of lead acting roles in broadcast comedies and dramas, but only 37 percent of lead roles in cable dramas. But: Women created only 21 percent of cable comedies and dramas, and only 26 percent of broadcast comedies and dramas. The amount of women directing network television are abysmal; only 10 percent of broadcast comedies and dramas were directed by women, and 35 percent of shows on cable. The Center for the Study of Women in Television shows that the percentage of female television producers increased slightly in 2014, but substantially decreased everywhere else, including creators, writers, and executive producers.
This all changes when women are in charge. When a show has at least one female writer, women suddenly account for 46 percent of the characters, whereas shows with no female writers only have 39 percent. When women create TV shows, 47 percent of the characters tend to be women instead of the 39 percent of female characters in male-created shows.
Basically, when women are hired to create, work on, or write shows, the visibility of women increases noticeably.
Why is this even important? According to the Bunche study, "media images contribute greatly to how we think about ourselves in relation to others."

When marginalized groups in society are absent from the stories a nation tells about itself, or when media images are rooted primarily in stereotype, inequality is normalized and is more likely to be reinforced over time through our prejudices and practices.
HBO just announced an immersive fellowship program for women and minorities that more studios would do well to mimic; they're looking for original material from 8 diverse writers who will take part in a master class in Santa Monica this summer. Each writer will then be paired with an HBO or Cinemax executive to mentor them over the next 8 months as they attend meetings and workshops, culminating with a reception to introduce the writers to the entertainment community.
When you see women on TV speaking less, in less significant roles, with fewer behind-the-scenes jobs, it's not a far leap to understanding why girls and women fall prey to low self-esteem, impossible body standards, and an implicit understanding that specific jobs weren't designed for them. In other words, you can't be it if you can't see it.
In almost every area, women are struggling to survive in Hollywood. With most of Hollywood failing to employ women, you get the impression that if they didn't support each other, they might not survive at all.
Perhaps that's why it stung to read former Sony executive Amy Pascal's flippant comments about women in the industry in a recent interview with journalist Tina Brown. Pascal's emails were among those leaked by North Korean hackers this past December as they protested the release of The Interview, a movie that included a plot to assassinate leader Kim Jong-un. The emails, which ranged from racially insensitive to overly catty also put a huge spotlight on how women in the company were paid less than men, including the fact that actress Jennifer Lawrence was paid less than her male co-stars for American Hustle. At the event, Pascal responded by blaming women for not negotiating enough:

Here's the problem: I run a business. People want to work for less money, I pay them less money. … Women shouldn't work for less money. They should know what they're worth. Women shouldn't take less. 'Stop, you don't need the job that bad.'"
"She thinks what she's saying is, 'I can get away with paying you class of people less because you're just bad negotiators. It's your own fault for not manning up," says writer Julie Bush. I reached out to her after reading her thoughtful comments about the industry on her blog. Bush has worked in television as a writer on Sons of Anarchy, and film; she's currently writing Robert Ludlum's The Sigma Protocol for Universal. "No talent is ever negotiating directly with studio heads. Our agents are talking to them, and if they're any good they have deep relationships with these people that extend way past any one project or client. In a different kind of industry, your market value might be determined by years on the job or programming skills or whatever. But in Hollywood, what determines your market value?"
And it's not like women are earning a fair wage in Hollywood, if fair means equal to what men are earning. According to Forbes, male actors earned significantly more than women. Robert Downey, Jr., the highest paid actor of 2014, earned $75 million dollars, and Sandra Bullock, the highest paid actress, earned $51 million. They're both very, very rich, but that's a 32 percent difference. In fact, the top ten actresses of 2014 earned 30 percent less than the top ten actors. Considering that three of them were in successful franchises last year (Lawrence, Johanssen, and Stewart), the problem doesn't seem to be that they're simply asking for less—they're just not being offered more, or at least not amounts that are commensurate with their male counterparts.
A more troubling aspect of Pascal's comments is the fact that paying women less seems to be a built-in feature of the industry. "The common, everyday experience for a woman in Hollywood is to be subtly, silently backed away from, shut out of networking, mentoring and socializing opportunities which for men may lead to jobs months and years down the line. I continue to feel shut out of that system—which is vital in terms of career development in Hollywood—to this day." Bush also relates that the process of negotiating is not only long and arduous, but greatly impacts your ability to take on other jobs or projects. With so few jobs for women going around, it's not exactly likely that it always makes sense to walk away from one that wants to pay you less than your counterparts. "Very few women actors, writers and directors are going to navigate the months-long slalom of getting to that point [of accepting a deal] and then walk away. Because who's to say whether there's a better deal elsewhere or whether the studio actually will pay more?"
This false idea of meritocracy, that women can do better if they were just willing to work hard enough, makes it easy for people to place unnecessary blame on the people least likely to be able to make any lasting institutional change. It also reinforces the idea that it's not just a matter of putting any woman in charge, but women who see the value of intersectional politics and diversity. The idea isn't to only see women in prominent roles, but to convince men that they have a stake in raising the diversity profile of this industry, too. It shouldn't fall on the disenfranchised to change the scope of Hollywood.
I asked Julie Klausner if the sisterhood was real. "Yes. There are pockets of sisterhood amid the tundra. Find your tribe, find your team; speaking from personal experience, there are generous, brilliant women who love other female voices in TV, and they are looking to help their fellow lady pals make stuff." Jill Soloway, Oprah Winfrey, and Amy Poehler are revolutionizing the landscape of television by insisting it reflect the fact that women make up 51 percent of the population. They're actually working to make it happen instead of waiting for someone else to do it. In so many ways, we've waited long enough.
"I am very happy with the job I have right now, and I am not (today) out looking," says Julie Bush. "But speaking for all women writers and directors—and women actors who don't see any roles for them out there—we do know our worth. We are not walking away. We are ready to drive those quotes up. Help us do that, Amy Pascal."
Danielle Henderson is a lapsed academic, heavy metal karaoke machine, and culture editor at Fusion. She enjoys thinking about how race, gender, and sexuality shape our cultural narratives, but not in a boring way.