President Donald Trump wished Muslims everywhere a happy Ramadan in a statement on Friday. It was filled with the well-known love he has for Islam and its adherents.

"At its core, the spirit of Ramadan strengthens awareness of our shared obligation to reject violence, to pursue peace, and to give to those in need who are suffering from poverty or conflict," explained a president who wants to ban Muslims from entering the United States so much that he's going all the way to the Supreme Court, and whose latest missile attack in Syria reportedly killed over 80 civilians.
"On my recent visit to Saudi Arabia, I had the honor of meeting with the leaders of more than 50 Muslim nations," the statement continued, conspicuously neglecting to mention the men-only Toby Keith concert which Trump briefly watched while in Riyadh.
"There, in the land of the two holiest sites of the Muslim world, we gathered to deliver together an emphatic message of partnership for the sake of peace, security, and prosperity for our countries and for our world," Trump, who once mused that he "think[s] Islam hates us," explained.
G/O Media may get a commission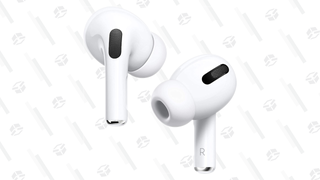 28% Off
Apple AirPods Pro Wireless Earbuds
"I extend my best wishes to Muslims everywhere for a blessed month as you observe the Ramadan traditions of charity, fasting and prayer," the man who promised to "strongly consider" shutting down U.S. mosques added.
"May God bless you and your families."
So, Ramadan mubarak, Muslim Americans. Rest easy knowing that Donald Trump is looking out for you!