Jamie Foxx gave his fans in Venezuela—and everywhere else in the world— a surprise on Tuesday when he showed up unexpectedly at the presidential palace in Caracas for a chat and friendly photo op with the country's widely unpopular President.
The Oscar-winning actor, who was joined in Caracas by U.S. actor Lukas Haas, hasn't explained what on earth he was doing in Venezuela. Neither has Haas. But Venezuelan state television showed the two posing for pictures with President Nicolas Maduro, then images of Foxx dancing in his chair to keep himself entertained during a strange and tedious ceremony where where the Venezuelan leader signed construction contracts with a Jordanian housing firm.
According to Venezuelan state media, Foxx visited the presidential palace to show his "support" for the government's social housing projects, which have managed to "build more than 1 million homes for Venezuelan families."
G/O Media may get a commission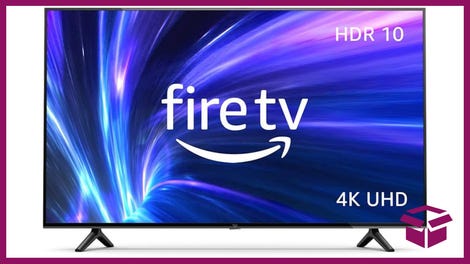 42% Off
Amazon Fire TV 50" 4K Smart TV
But that seems like an unlikely explanation, even for an unlikely meeting.
Hollywood actors have previously visited Venezuela, but not since the country really went off the rails a few years ago. The first was Danny Glover, a veteran sympathizer of leftist regimes in Latin America, who received $10 million from the Venezuelan government in 2008 for a film on a Haitian Revolutionary hero that still hasn´t been made.
In 2010, Sean Penn was given funding from the Venezuelan government for his charity work in Haiti. Like Glover, he too visited the presidential palace and spoke kindly in public of former President Hugo Chávez. Penn went so far as to say that journalists who called the socialist leader a dictator should go to prison.
Foxx said on his Instagram account on Tuesday that he's working on a film that will be his directorial debut. He said he "had a great team in the works," but made no mention of his trip to Venezuela, or whether the film project has anything to do with the South American nation.
In the meantime, some Venezuelans are outraged over the visit. They're accusing Foxx of endorsing an unpopular and authoritarian government, that is currently presiding over the worst economic crisis in the western hemisphere.
Here's some messages that people had for Foxx on Twitter.
"Jamie Foxx and Lukas Hass should live in Venezuela for one year with the local minimum wage and experience the lifestyle of the common Venezuelan" wrote Fernando Alvarez a political analyst.
Some Venezuelans said they've had enough of Hollywood actors shaking hands with the nation's socialist leaders, while the country falls into tailspin.
Some people took things a bit more lightheartedly, and reminded Foxx of the time in 2014 when he supported Venezuelan protesters who were trying to overthrow President Maduro.
It seems that Foxx either has a short-term memory, or is entirely confused about Venezuelan politics.
Manuel Rueda is a correspondent for Fusion, covering Mexico and South America. He travels from donkey festivals, to salsa clubs to steamy places with cartel activity.