In the past few days, you may have seen Ronan Farrow all over NBC News programs talking about his bombshell New Yorker investigation into Harvey Weinstein. Farrow has been on Today, talked to Rachel Maddow, and even braved the horrors of Morning Joe to discuss his work.
What's ironic, of course, is that Farrow's piece was once supposed to run on NBC, but didn't. And NBC's explanations for why it didn't run the story are looking more dubious by the day.
NBC News President Noah Oppenheim insisted on Wednesday that he declined to run Farrow's story because it simply wasn't good enough.
"We reached a point over the summer where, as an organization, we didn't feel that we had all the elements that we needed to air it," he said.

That reasoning, which the network has been pushing in one form or another for days, has never seemed particularly convincing. For instance, HuffPost reported on Tuesday that Farrow had already obtained the chilling audio of Weinstein attempting to manipulate a woman into his hotel room when NBC killed the story. Most news outlets would rush to even run that, but NBC balked. And The Daily Beast reported on Wednesday morning that not only had at least eight of Weinstein's accusers already agreed to go on camera—some of them with their names and faces unhidden—but that other staffers at NBC News had fact-checked the story and found it to be solid. It defies belief that there was nothing the network deemed usable in all of that reporting.
G/O Media may get a commission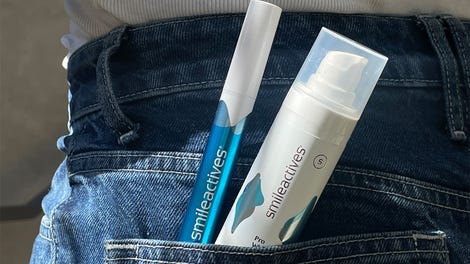 58% off
Whitening Powerhouse Pen & Gel Duo
On Wednesday night, HuffPost published a followup piece about NBC's failings, and it made the network look far, far worse.
Among the allegations:
NBC raised the issue of whether Farrow's involvement in the story was unethical after Weinstein's lawyers noted their client's ties to Farrow's estranged father Woody Allen (who, as we all know, has been hit with horrific abuse allegations of his own). This is an odd position for NBC News to take, given that it allowed Jenna Bush Hager to interview her father, the blood-soaked former president of the United States, on air with no apparent qualms about conflicts of interest.

NBC wouldn't even consider running a text story on its website, let alone airing any of Farrow's reporting.
NBC told Farrow the story would have to go through both NBC News Chairman Andy Lack and NBCUniversal CEO Steve Burke—something staffers told HuffPost was totally unprecedented.
In August, NBC told Farrow that he should simply stop trying to report the story at all, leading him to take it to the New Yorker.
It's this last thing that's been bugging me the most ever since Farrow's story came out. If you're NBC News, why wouldn't you tell Farrow to keep at it, especially after he'd compiled so much clearly newsworthy material? Why would you consciously let a story of this magnitude slip away from you—in any format—rather than work as hard as you could to nail it down to a place you were comfortable with? That's where NBC's reticence stops looking baffling and starts looking shady as hell.