MEXICO CITY — Scorpions and fly larva are just two of the crawling, wriggling lunchtime specials available at Mexico City's emblematic San Juan Market, one of the country's oldest and most exotic bazaars.
Every weekend chilangos and tourists alike flock to the market to feast on a wide variety of pre-Hispanic plates featuring protein-rich insects. According to historians, ancient Mexican tribes such as the Mexicas and Mayas combined traditional tortillas and beans with ants, locusts, fireflies, butterflies, worms and a wide assortment of flowers for a balanced diet, especially when meat was scarce.
Today, that tradition remains alive. Even mainstream restaurants in Mexico City offer gourmet menu options including gusanos de maguey (century plant worms) and chapulines (grilled crickets). In addition to these deliciously crunchy crawlers, some market merchants sell crocodile, iguana and armadillo meat, as well as ostrich eggs.
Fusion visited the San Juan Market to learn more about Mexico's exotic cuisine. Here are some of the most unique dishes we found, and the people who eat them.
G/O Media may get a commission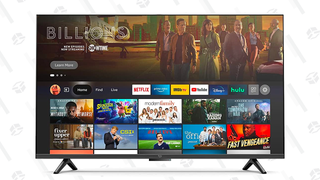 22% off
Amazon Fire TV - 50" Omni Series 4K - Early Access Deal
White maguey worms are butterfly larva. The Aegiale hesperiaris butterfly lay its eggs at the heart of the agaves, the plants that give us tequila and mezcal. The larvae, which feast on the agave plant and roots, are used in a wide variety of foods, from tacos to shots of mezcal.
Ariadna, 9, says she loves maguey worms.
Read: Take a Safari tour through one of Mexico City's roughest neighborhoods.
The worms are cooked in butter.
Red maguey worms are known as chilocuiles, chinicuiles or tecoles. They're usually considered a plague that infests the core and roots of the maguey plant. 200 grams of these critters sells for about $50.
Fernando Vazquez sells Axayactl, a type of fly larvae that is sometimes referred to as the "Mexican caviar." Vazquez is a fifth-generation merchant who believes insects are the food of both the past and the future because of their abundance and availability.
Scorpions sell for about $2. They're toasted in a comal and usually served with nopales and tortillas. When meat was scarce, scorpions would provide a protein-rich meal. Putting one in your mouth is a sign of bravery.
Read: Take a virtual tour of Mexico City's best street art.
Veronica and her family eat insects at the San Juan market.
Celia holds up crocodile meat. She also sells wild pig, rabbit, buffalo, ostrich, ostrich eggs and chicatana ants. Crocodiles were of great importance to the Maya, who made the reptile the first animal on their calendar. The Maya believed the crocodile guarded the door to the underworld. They valued the animal for its alleged healing properties.
Angelis, 10, and Rene, 8, buy an armadillo to prepare a special dinner for dad, who is returning from a long trip.
A French tourist eats Axayactl, or "Mexican caviar," which is abundant in the Lake of Texcoco, once the center of the capital of the Aztec Empire known as Tenochtitlan.
Armadillos are protected animals in Mexico. Eating and hunting them is prohibited, but, some marketeers and restaurant owners buck the ban and serve armadillo meat. This armadillo dish includes chiles wrapped in leaves.
Ostrich eggs go for approximately $32 a pop. Mexicans eat them scrambled or in a tortilla.
Freelance Photographer.
Interested in social justice, human rights, women voices, travelling and learning.
Currently working on a project about women migration from Central America and Mexico to the US.
Rafa Fernandez De Castro is a Fusion consultant for Mexico and Latin America. He covers Mexican youth, politics, culture, narcos and funny stuff once in a while.