Sophie Cruz has made headlines a lot of times during her first six years on the planet. And now she's ready to do it again—but she needs your help.
The second-grade daughter of undocumented Mexican immigrants first made international headlines last September when she slipped through a police line to give the pope a handwritten letter. She has since become one of the youngest voices in the immigration reform movement, and even got to meet with President Obama in the White House.
Now she's got a question for Donald Trump and Hillary Clinton. And it could be one of those moments that defines the campaign.
Cruz's question is short and personal: What happens to me if you deport my parents?
G/O Media may get a commission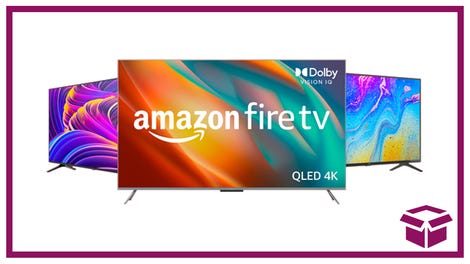 Ooh. stunning.
New Amazon Fire TVs
Cruz learned her parents were undocumented when they told her they couldn't take her to visit her grandparents in Mexico without risking getting caught at the border trying to re-enter the U.S. Sophie Cruz found the answer unacceptable and that's the moment she became an activists. Now she wants answers from the next president.
Cruz posted her question on PresidentialOpenQuestions.com, a website that allows users to propose questions and vote on which they'd like to see put to Hillary Clinton and Donald Trump next Sunday.
The 30 questions with the most votes will be submitted to ABC and CNN for consideration. ABC and CNN have told the Open Debate Coalition that the moderators would be asking any questions chosen from PresidentialOpenQuestions.com.
Cruz's question currently has close to 8,000 votes, she needs an additional 3,000 votes to get into the top 30, according to the current standings. A question about gun safety is presently in leading with more than 39,000 votes.
Both Hillary Clinton and Donald Trump have said their administrations would focus on deporting violent criminals, but it doesn't always work out that way. People get nabbed in routine traffic stops, and families with no criminal record get torn apart. Cruz's question would force the candidates to address what happens to the children left behind.
More than 5,000 children have been stuck in foster care situations because their parents have been deported, according to a 2011 investigation by the think tank Race Forward.
"Everyday I am scared that one day they will take [my parents] away from me," Cruz says in a YouTube video produced by Define American, the pro-immigrant media organization founded by filmmaker Jose Antonio Vargas.
Cruz's parents left Oaxaca, Mexico and have been living in the U.S. without papers for a decade. Their two daughters are U.S. citizens by birthright. There are an estimated 9 million people living in similar "mixed-status" families in the U.S.
Cruz's father told Fusion earlier this year that his daughter is not being coached by anyone. In fact, he said it was the other way around—that Sophie convinced him and his wife to become advocates for immigration reform.
You can vote for Sophie Cruz's question on PresidentialOpenQuestions.com.