Robots don't actually make your food at Eatsa, the San Francisco restaurant that opened today near the Embarcadero BART station, but uninformed passersby might assume that's the case.
At Eatsa, humans don't take your order—an iPad does. Swipe your card, and a menu appears. There's six quinoa salads to choose from. "It starts with quinoa," their website declares. Quinoa's at the heart of Eatsa's mission to provide healthy, sustainable food, Tim Young, Eatsa's CEO, tells me.
I picked the Smokehouse Salad, a quinoa-BBQ mushroom-corn concoction, as Danny Lee, Eatsa's business operations manager, explained to me how they wanted Eatsa to "feel like party central." They plan on expanding quickly, he told me, because he thinks they're "gonna murder it." An Arcade Fire song played on the speakers. By the end of our brief conversation, I headed over to the set of cubbies on the wall a few feet away. My order was already sitting there. How did I know? My name was on the cubby.
At Eatsa, there are no waiters. There are no hosts. There are cooks, but you can't see them. If it weren't opening day, and Eatsa employees weren't swarming the premises, the only employee in the place would be a concierge staff member, there to help out if anyone needed it.
G/O Media may get a commission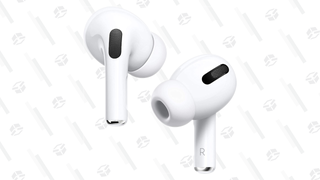 28% Off
Apple AirPods Pro Wireless Earbuds
A member of their marketing team at the store today said that the near-absence of human contact didn't mean the store lacked a personal touch. "We're present in the ways people communicate today," she told me. "We're very active on social media."
Everyone I spoke to at the company was very excited about the "price point." It's $6.95 (plus tax) for a bowl, and it really is a lot of food. Its emphasis on "price point" even pops up when you search it on Google:
The two co-founders, Tim Young and Scott Drummond, told me eliminating labor costs for service staff were one aspect of the low cost of the quinoa bowls, but not the whole explanation.
It's a complex model, Drummond told me. Young said they're "unique up and down the stack," not just on the automation side. I asked if the price was an Uber-like attempt at "loss leading," setting an intentionally low price to bring in customers before hiking prices up once the customer base had been established. He said that wasn't the case.
"Our goal, actually, is to head in the other direction," Drummond said.
Drummond and Young told me the idea for the company emerged from a feeling that no healthy, cheap, sustainable food options existed in the fast food sphere. They believe Eatsa serves a social mission by bringing nutritional and affordable food to downtown San Francisco, an otherwise overpriced area. Naturally, they plan on expanding quickly. A location in Los Angeles is planned, as well as five more in San Francisco.
This first location on Spear Street, Eatsa's head of product Jason Mueller said, will help them gather even more data as they figure out how to optimize "operational efficiency." It's a tech-y approach to a brick-and-mortar restaurant space—they're gathering data on all kinds of things, from "crave-ability" to the types of orders new customers make (which they track through credit and debit card data).
"It's pretty sweet," Mueller, who picked the music for the grand opening. "We're incredibly sexy and super scalable."
Michael Rosen is a reporter for Fusion based out of Oakland.