In the summer of 2014, digital artist John Craig Freeman started walking the streets of Los Angeles and interviewing strangers at random. He wanted to learn a little bit about the psyche of the city's residents by asking them one question: "What have you lost?"
He got all sorts of responses. Among them were "water," "dignity," "faith," "fame," and "the 43 students of Ayotzinapa." After speaking with each person, he asked them if he could take a 360-degree portrait of them, which he'd use to generate an avatar when he went back to his lab. These would be paired with digital representations of each person's lost "item," which would then be geotagged to the spot where the interview was conducted. Each story would be be "viewable" through an augmented-reality mobile app. Los Angeles, he says, is now "littered with lost objects and avatars."
Here's what the resulting map looks like so far:
The point of the art installation was to create a kind of augmented-reality public memorial, Freeman told me. "What is the equivalent of a public square now that we're all living in a mobile network structure?" he said. "Art gets put in public squares as part of identity formation. I was trying to understand how to address that in a distributed public square."
The project, which was one of five commissioned by the Los Angeles County Museum of Art's Art + Technology Lab, also included clinics and public workshops at the museum. Although those have largely have wrapped up now, the public virtual project around L.A. is still going.
G/O Media may get a commission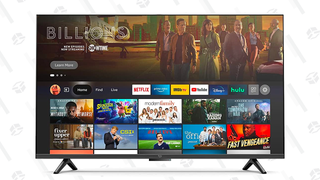 22% off
Amazon Fire TV - 50" Omni Series 4K - Early Access Deal
If you download Layar, an augmented-reality viewer for mobile devices, and scan a QR code on the project's site, you can unlock each person's stories at the places where Freeman originally spoke with them. You hold up your mobile device, and the avatar and lost item appear, along with the stories behind them. It's an interesting way of seeing the city through the eyes of another person.
This isn't the first time Freeman has done something like this. He'd meandered through Liverpool, Basel, Switzerland and Coimbra, Portugal in years past asking people the same question. In 2010, he developed another public augmented-reality installation called Border Memorial: Frontera de los Muertos, which he dedicated to "the thousands of migrant workers who have died along the U.S./Mexico border in recent years."
He also helped develop another installation to commemorate the 1989 student uprising at Tiananmen Square in China. Together with a group of other artists developed virtual replicas of the Goddess of Democracy and Tank Man.
"The [Goddess of Democracy] image has been censored from Chinese search engines. If you search Tiananmen Square in China you'll end up with tourist images," he told me.
The Los Angeles project isn't as political as some of this other work, but the premise is the same: "Augmented reality opens up the doors for artists to have total agency of where their work is placed," Freeman said. They don't need to worry about permits or curators. "I can put a virtual object anywhere I want."
Daniela Hernandez is a senior writer at Fusion. She likes science, robots, pugs, and coffee.