Is Ludacris the greatest living artist on the face of the planet? Hard to say.
He does, however, have one of the best list of concert demands I've seen in a long, long time. Let me explain.
In the days leading up to last week's G-Day spring kick off at the University of Georgia, athletics director Greg McGarity announced that, because negotiations with a number of musical acts had fallen through, there would be no pre-game performance this year.
Enter Ludacris, who allegedly reached out to the school and swooped in to save the day, playing a fifteen minute set that featured classic tracks like "What's Your Fantasy?" and "Money Maker." It's that 2006 hit that was a prescient choice: the Atlanta-based rapper was paid a whopping $65,000 for his short concert, or just over $4,300 per minute of stage time, Macon.com reports,
But it's Luda's rider—the list of contractual demands an artist makes when agreeing to a performance—that may be the highlight of his UGA appearance. Obtained by Macon.com by way of Georgia's Open Records Act, the rider features requests for the sort of things you'd probably expect to find in an A-list star's dressing room:

2 Bottles of Belvedere Vodka
2 Bottles of Conjure Cognac
2 Bottles Patron Silver
1 Box of Trojan Magnum Condoms (excstasy)
There's few hyper-specific oddities, as well:

2 Jo Malone candles (Gardenia scent)
1 loaf of Bread (whole grain with the most amount of grains)
1 Crest Spin Rechargeable Toothbrush
Why anyone would need a toothbrush that necessitates recharging for what is most likely a one-time use, is totally beyond me.
G/O Media may get a commission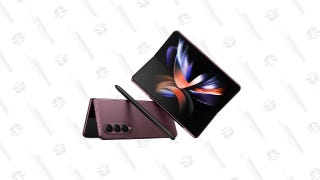 Save Up to $300
Galaxy Z Fold4
The whole rider is below:
Granted, it's not quite at Van Halen "Brown M&M" levels of specificity (which, it turns out, has its own interesting back story) but it's pretty terrific nonetheless.
You can watch Ludacris' $4k-a-minute performance here.