A few weeks ago a co-worker suggested I try living alone, claiming it allows you to understand yourself on a deeper level. I immediately wrote it off because I'm not trying to pay that kind of rent in New York City. But then it hit me—most women in my family never lived alone. Not until they were forced to.
These great aunts and grandmothers grew up in their family home and then moved into their husband's home when they got married and started their own families, but they were left to themselves when their children were grown and their husbands passed. They had never lived alone, or been alone, until they were in their 60s or 70s. Imagine that.
Realizing this had already inspired me to reconsider living alone at this stage of my life, in my 20s, as an empowering choice—one that could potentially prepare for a later stage of life. And then I watched this segment from the British Channel 4.
The clip explores the loneliness older people feel, interviewing an elderly man and woman who live on their own. What they had to say brought tears to my eyes, so watch at your own risk.
"It feels as though you've been dumped in the deep end and there's nobody there to rescue you," Roy Croucher, a widower, told Channel 4. The fact that one person feels that way is sad enough, but there are entire chunks of the population that feel that way.
G/O Media may get a commission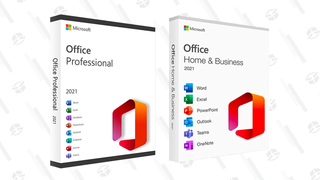 89% off
Microsoft Office Professional 2021 Lifetime License
According to a survey by the Campaign to End Loneliness, a U.K.-based network that supports those who feel lonely, nearly 2.5 million people over the age of 60 would not know where to go if they felt lonely. The campaign also views loneliness as a public health issue, stating that loneliness and isolation are "as harmful as smoking 15 cigarettes a day."
Now go call your grandmother or another elderly person you know.
Oh, and here's your cat tax.