MEXICO CITY — "I keep thinking how my life would have been if my parents would have stayed here," Paúl, a 21-year-old DREAMer and recent college graduate tells me as we take a guided tour of a children's shelter in Mexico City. "My name has an accent. Soy Mexicano."
Paúl is one of 10 DACA beneficiaries who spent this month visiting Mexico as part of a cultural exchange program co-sponsored by the Dallas-based Latino Center for Leadership Development and the Mexican government. It's an ongoing program that seeks to reconnect young DREAMers with their native country, in a way similar to how Jewish advocacy groups sponsor youth trips to Israel.
Paúl spent most of his time in Mexico attending workshops and activities in the capital, but he also got a chance to visit his Mexican family in the southern state of Colima.
"I would have probably ended up becoming a miner if my parents hadn't left and taken me with them," he says.
G/O Media may get a commission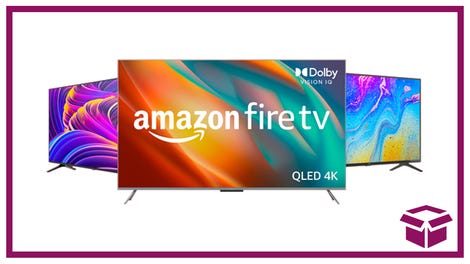 Ooh. stunning.
New Amazon Fire TVs
He says he felt pangs of guilt when he saw his uncle who was deported from the U.S. "He had to come back with my younger cousins to start over. They are still struggling with Spanish."
Paúl says that during the first days of the program they held meetings with a bunch of Mexican officials who spoke highly about the current administration. But the group spent the last week walking around what Paúl refers to as the "real" Mexico, visiting the rough neighborhood of Tepito and the children's shelter were local volunteers try to mentor kids to steer them from a life of drug-addiction, crime and jail.
At the shelter, the DREAMers also met another type of dreamers: Central American teenagers who got stuck in Mexico City while trying to make their way to the United States. A young girl from Honduras watched the Mexican tourists make their way through her adoptive home at the shelter.
"It's been very emotional being here," says Areli, a 24-year-old DREAMer and Spanish teacher from Austin. "We've been exposed to a lot of government officials. My parents have always told me they are very corrupt, so I kept thinking, 'Are they bullshitting me?' You start to question everything."
"Things like these are the real Mexico," she says while walking through the shelter.
Areli insists she's happy with the program and the warmth she's received while in Mexico. She's seen the complexity of the country up close; the good and the bad, the government officials that still want to make a difference, and the people who work day and night to provide for their families. It's a nation of extremes with vast resources and a millenary culture.
Areli says the trip opened her eyes and made her fall deeper in love with her native country—like seeing Mexico again for the first time.
"I left when I was eight," she says. "Everything is new to me now that I've come back."
Areli was born in the touristy city of Acapulco, and says she recently took advantage of the cultural exchange trip to visit her grandmother.
"It's now a drug war hotspot. People no longer migrate to get better jobs, they simply do so to avoid winding up dead," she said. "Seeing the way my grandma lives made me feel guilty. How do people make it out here and how do we forget about them? My mom sends money, but I still feel guilty about forgetting."
But Mexico has also forgotten about them in a way. They are the Mexican diaspora that can make a difference in the U.S. by protesting and pressuring the government to protect all undocumented immigrants. Mexican officials are starting to grasp this.
Areli tells me she's also a bit nervous because the cultural exchange program doesn't exactly guarantee she'll be able to return to the United States. "When we go back there will be lawyers waiting for us at the airport," she said.
The possibility of U.S. immigration officials not granting the group re-entry might be small, but Areli says they were told there's a chance it could happen. It's ultimately up to the immigration official's discretion whether or not to let them back in.
Areli is on "advanced parole," that means her application to travel outside the U.S. for a specific purpose (educational trip) was accepted and she won't lose her DACA status. However, there's always a possibility she can be denied entry even if the government allowed her to travel.
"I have strong faith in this program," she says. "I want to come back to Mexico and teach English in the summer."
The DREAMers in the group have grown fond of each other. I jokingly ask if there's been any summer flings during the trip. "We all need blue passports first, why would we complicate our lives further?," one of the guys blurts out. They all laugh, but some of the girls blush.
"I'm taking the Mexican identity with me," says Jesus, a 26-year old DREAMer. "I always felt Mexican but with this trip I now feel connected."
"We have to go back to the U.S. and change things," he tells me when talking about Donald Trump and the upcoming election. "We are very disappointed by the recent Supreme Court decision, but we will keep working towards immigration reform."
But the DREAMers, or "DACAmented" as some like to be called, tell me they are leaving Mexico with a greater sense of duty. They've now become ambassadors for the Mexican cause in the United States. They know it's up to them not forget where they came from, build bridges and keep the dream alive.
In Mexico they are now known as Los Soñadores.