Taiwan's highest court ruled in favor of allowing same-sex marriage on Wednesday, paving the way for the country to become the first in Asia to legalize marriage equality.

"The freedom of marriage for two persons of the same sex, once legally recognised, will constitute the collective basis, together with opposite-sex marriage, for a stable society," the country's 14-member council of grand justices wrote in their decision.
The ruling comes in response to two court cases: one from LGBTQ rights campaigner Chi Chia-Wei and the other from the city government of the nation's capital, Taipei, where three same-sex couples lodged an administrative suit against the city for denying them marriage registrations.
Young people took to the streets Taipei to celebrate the decision:

G/O Media may get a commission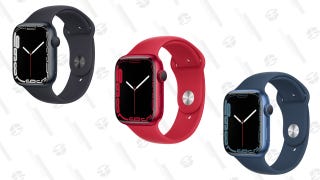 Up To $45 Off
Apple Watch Series 7
This is just a first step for the country: under Taiwanese law, parliament now has two years in which they can introduce new, separate legislation that could set separate rules for same-sex marriages. If they don't enact new laws in that time frame, same-sex marriages will be automatically included in current marriage laws.

"We hope that we don't have to wait another two years before we can get married," Cindy Su, of the Lobby Alliance for LGBT Human Rights, told The New York Times.
But Taiwan is known for its Pride parade, the largest in Asia, and is ahead of other countries in the region on this issue.
"Without a doubt, Taiwan is walking in front of other Asian countries on this," Ying Xin, executive director of Beijing LGBT Center told The Washington Post. "This is significant for all of Asia."