When Marcelo Hernandez Castillo first got serious about poetry as a teenager, he hoped, naturally, to share his work with the world. But he soon faced a sobering fact: an entire population of aspiring young poets like him have been effectively barred from the poetry establishment in the U.S.
Hernandez Castillo, though raised in Northern California, was, at the time, undocumented, having arrived with his parents from Zacatecas, Mexico as a small child. "When you're undocumented, the first thing you look at with anything are the legal requirements," he says. "I immediately realized that a lot of the contests and presses require citizenship."
Hernandez Castillo, now 27, gained his legal U.S. residence last year. But now he and fellow  poets Javier Zamora and Christopher Soto, both 24, have formed a group to tear down these walls: the Undocupoets.
The mission? End citizenship-based discrimination, first in first-book contests, a brass ring in the poetry world that could lead to publication by bigger companies, and eventually marquee opportunities like NEA grants, Guggenheim Fellowships, and the Pulitzer Prize.
G/O Media may get a commission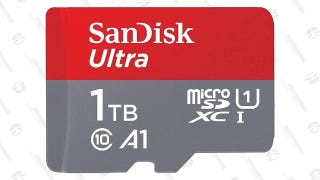 Save $75
SanDisk Ultra 1TB MicroSDXC Card
The three writers have now circulated a petition first published online in the journal Apogee. It calls for what's basically a baby step towards inclusion—extending entry rights in major contests to those under Temporary Protected Status (TPS) or DACA, a program for those who arrived undocumented as children.
"We must strive, as a poetry community, to allow ALL of our comrades the same opportunities that documented poets are afforded," they wrote in the petition. "No poet should have their opportunities limited because of their immigration status!"
They've collected more than 400 signatures on the petition so far, including big-for-poetry names who teach in vaunted programs at Harvard, Notre Dame, and NYU. "To have 400-plus people in solidarity might seem like a small number for any other kind of community, like the broader Latino community," says Hernandez Castillo. "But for the poetry community, that's a big number."
So, yes, as it turns out for those of us who might like poetry, but live outside of its cloistered walls, it turns out that poetry contests do not, in fact, just judge entries based on the strength of the work alone. If you're confused, well, so are many other poets themselves.
"There have been multiple times where I have run into people in this process where they've said, 'Oh, geez, I've never thought about that,'" says Hernandez Castillo, of his discussions with the community about contests' citizenship requirements. "It's just showed us how little people are thinking about it, which means how little [poetry] presses are thinking of it. They don't know the weight of that and how it's bearing on undocumented writers."
The Undocupoets petition specifically calls out a number of big-name poetry prizes for requiring proof of citizenship, and Hernandez Castillo, Zamora, and Soto say organizers have given them different reasons for that rule.
"We hear a lot that they need a valid Social Security number because they pay through check stubs and they file a W-9, so it's necessary," says Zamora, who, at age nine, immigrated from El Salvador by crossing the Sonoran Desert. He currently holds TPS status, which leaves him in residency limbo, but still allows him to legally work.
"Most undocumented poets we know have DACA or will qualify for extended DACA," he says — and DACA provides Social Security numbers and work permits. "So there is zero reason for anyone to say they require proof of citizenship because of Social Security numbers."
Organizers of other big-name contests seem to have left their citizenship rules in place because of tradition and inertia, say the Undocupoets. This means that they've already made some inroads with those institutions.
"At Notre Dame, basically the rule was there and nobody had checked it," says Zamora. "So we spoke to them and they quickly changed the sentence so now they don't have that anymore."
Perhaps first-book contests wouldn't be such a big deal, if they weren't such an essential part of the established path to poetry success and, basically, just scraping by with a living.
"Mostly you're kind of pushed into the MFA, and then you go out, and hopefully get a fellowship, and hopefully then you get a book," says Zamora. "That has been a trend, and there have been a lot of articles published about why [the MFA-route is problematic because] it keeps a lot of people of color out." (Even when people of color do make it into MFA programs, anyways, it isn't easy going — just see Junot Diaz's recent "MFA vs. POC" essay in the New Yorker for an example.)
Soto, in fact, sees the world of citizenship rules in poetry as an intersectional battleground. His parents hail from El Salvador but he was born in the U.S. and isn't himself undocumented. "When you say someone needs to provide proof of U.S. citizenship," asks Soto, "who are you disallowing to be seated at the table with you?"
The Undocupoets petitioncontinues to gain steam, especially after being reblogged by the Poetry Foundation — which, ironically, requires proof of citizenship in its own contests. And Hernandez Castillo, Zamora, and Soto don't plan to let up in their quest to seriously upend the creative-writing establishment. They've recently published follow-up articles on Vida and Lambda Literary to spread the word.
Opening the world of first-book contests to the undocumented is only a first step. Next in their sights are contest reading fees, which also exclude the underprivileged. "Then," says Zamora, "we have to disrupt everything around it."
Arielle Castillo is Fusion's culture editor, reporting on arts, music, culture, and subcultures from the streets on up. She's also a connoisseur of weird Florida, weightlifting, and cats.