Clear your schedules: The Passion, Tyler Perry's live musical about the life and death of Jesus Christ, will air 8 p.m. Sunday on FOX. It looks… unlike anything we've ever seen before. Here's what you need to know.
🙏🙏🙏,
I'm sorry, what?
The Passion: New Orleans is a modern-day retelling of Jesus' final hours in the form of a two-hour live musical. A Dutch version of The Passion has been performed annually on live TV since 2011.

G/O Media may get a commission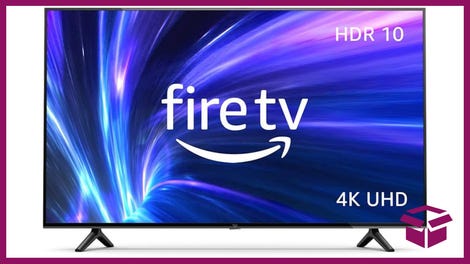 42% Off
Amazon Fire TV 50" 4K Smart TV
Is it really live?
Yeah, dude, it's live, minus a handful of segments have been taped in advance for logistical reasons.

Where's this happening?
The Passion will tape in New Orleans, Perry's hometown, before an audience of 25,000 in Woldenberg Park on the Mississippi River. In a FOX promo video, Perry praised New Orleans—having survived "so much tragedy and so much darkness"—as the "perfect" backdrop for this story.
It's outside? What if rains?
Executive producer Mark Bracco told Variety that producers will have "hundreds of clear umbrellas," on hand just in case.

Why this Sunday?
Well, it's Palm Sunday, the Christian observance that falls exactly one week before Easter. Church services held on this day typically involve the distribution of palms to the congregation, a nod to the Biblical passage in which Jesus' disciples greeted him by laying down branches when he rode into Jerusalem.

Who's in the cast?
Jesus: Jencarlos Canela
The Cuban-American actor and musician—who currently appears opposite Eva Longoria in NBC's Telenovela—is best known as a star of actual telenovelas. We're confident he's well prepared to carry on the proud tradition of hunky Jesuses.
Judas: Chris Daughtry
In the role of Judas, the disciple who betrays Jesus, we have Chris-Daughtry-from-American Idol Chris Daughtry. Hey, Chris Daughtry!
Mary: Trisha Yearwood
The legendary country singer (and, more recently, an Emmy-winning Food Network host!) will will play Mary, mother of Jesus.
Pontius Pilate: Seal
The "Kiss From a Rose" singer and former Mr. Heidi Klum plays the Roman governor who sentences Jesus to death by crucifixion. (Did you know that Seal has released not one, not two, but four self-titled albums? Well, now you do.)
Peter: Prince Royce
The adorable bachata and Latin pop superstar is our Saint Peter, Jesus's right-hand man and the Apostle considered by the Catholic Church to be the first Pope.
Narrator: Tyler Perry
Did you really think Tyler Perry would put on this whole thing without giving himself a part? Nah.

Anybody else?
Yeah, actually. A procession of 1,000 (non-famous) people from around the United States—producers put out an open casting call online—will carry a 20-foot cross from outside the Superdome through the city to the 10-storey stage.
But it's a musical, right? Are they just gonna lip-sync to the Jesus Christ Superstar soundtrack or what?
You're wrong and you're rude. The stars—accompanied by a choir and band—will perform contemporary pop songs like "Mad World," "My Love Is Your Love," and even some Creed.

Are live TV musicals a thing now?
Sure seems like it. FOX's first entry into the game was Grease Live back on January 31, and the network has a Laverne Cox-starring production of The Rocky Horror Picture Show slated for this fall. Since 2013, NBC has served up The Wiz Live! Peter Pan, and The Sound of Music, with Hairspray up next.

Is The Passion going to be an outstanding television experience?
Obviously, yes.
Molly Fitzpatrick is senior editor of Fusion's Pop & Culture section. Her interests include movies about movies, TV shows about TV shows, and movies about TV shows, but not so much TV shows about movies.