Here is a story about how the same drug is sold in two countries. In one country, patients can be on the hook for hundreds or thousands of dollars a month. In another, it costs the patient less than a night at the movies.

Humira is a drug used to treat inflammatory conditions like rheumatoid arthritis and Crohn's disease, helping patients ease pain from their inflamed joints or the painful sores caused by plaque psoriasis. It's also the best-selling prescription drug in the world with over $18 billion in sales in 2017. In the U.S., the cost per patient per year is $38,000 after rebates, according to The New York Times. Without rebates, its cost is around $60,000. How much the patient pays for the drug depends on their insurance plan.
But high drug prices raise prices for everyone: insurers, patients, and the government. And with co-pays and deductibles, patients taking Humira could easily spend hundreds or thousands of dollars a year. Patients for Affordable Drugs, a non-profit advocating for lower drug prices, wrote in a letter to the Federal Trade Commission earlier this year that one patient, 76-year-old Sue Lee of Kentucky, told them: "Since retiring in 2017, I had to stop taking Humira because most of the year it was costing me $5,000 a month." Others, even with what we think of as "good" insurance, shell out thousands, too: One patient told the Times this year that she "held off buying her latest dose because her insurer had changed" to avoid shelling out $1,200 twice that year.
According to a transcript of congressional testimony, Joanna Hiatt Kim, the vice president of payment policy at the American Hospital Association, said "[Humira manufacturer] AbbVie's almost 10% price hike to Humira is expected to increase healthcare costs in this nation by a billion dollars in 2018 alone." One billion dollars in healthcare costs in the U.S., from a price increase on one drug. The price rose by 100 percent overall between 2012 and 2018. (Of course, drug sales in the U.S. are also juiced by factors other than high prices: AbbVie is currently embroiled in a lawsuit with the California Department of Insurance for allegedly engaging "in a far-reaching scheme including cash, meals, drinks, gifts, trips and patient referrals" to "induce and reward Humira prescriptions" from doctors, according to Reuters.)
G/O Media may get a commission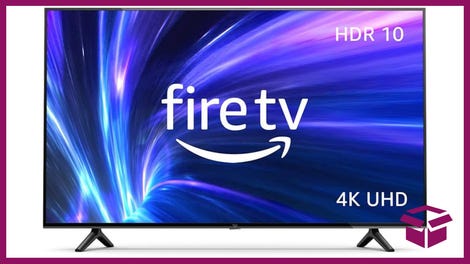 42% Off
Amazon Fire TV 50" 4K Smart TV
Then, there is the United Kingdom. The National Health Service just announced that it had reached deals to sell "biosimilar" versions of Humira, saving NHS hospitals £300 million, or about $384 million—"roughly three-quarters of the amount they currently spend." A "biosimilar" is like a generic drug but for "biologics" like Humira, meaning it's made with living cells, which make it harder to copy than regular old chemical drugs.
Why is Britain saving all this money on biosimilars and the U.S. isn't? How come American patients aren't getting the relief of cheaper versions of this exorbitantly-priced drug? Because of "a formidable wall of patents" built up by AbbVie in the U.S., protecting its monopoly position in the American market. Although its original patent expired in 2016, AbbVie has secured more than 100 additional patents covering things like the drug's manufacturing process to prevent cheaper biosimilars from coming to market. Those patents won't expire until the 2020s and 2030s. AbbVie reached deals with other drug makers—Amgen, Samsung Bioepis, Novartis, and Mylan—to keep biosimilars off the U.S. market until 2023. That means five more years of outrageous costs, with patients choosing between food and the drug that lets them walk without agony.
Britain and Europe don't allow this sort of bullshit, which is why biosimilars for Humira hit the market this year. Five different versions of the drug are approved in Europe. And the NHS was able to make the "biggest saving in NHS history from a single drug negotiation," according to the Guardian. Simon Stevens, the CEO of the NHS, made this point himself, telling the paper the savings are "another example of how the smarter approach to biosimilar medicines in the UK and Europe gives patients and taxpayers a much better deal than they get in the United States."
Even before this big deal, the drug already cost less there—according to the Times, a dose "costs $2,669 in the United States, compared with $1,362 in Britain." The NHS issued a briefing in March saying it spent $469 million on Humira to treat 57,000 patients in 2016 and 2017.
AbbVie charges more in the U.S. because they can get away with it, because the government lets them file bullshit patents to extend their monopoly over a drug they currently sell for $18 billion per year. They charge less in other countries because they can't get away with it. Humira does not cost $60,000 to make or sell. It costs that much because AbbVie wants to make the biggest profit they can.
The example of other countries shows it does not have to be this way. There's no reason for Congress not to immediately pass a law to prevent this. The only reason is if policymakers find it particularly important to protect the ability of pharmaceutical companies to make billions of dollars in profit, at the expense of patients. Apparently, they do.
Correction: This story originally misattributed a quote by Joanna Hiatt Kim to the CEO of the Alliance for Health Policy, which is a nonpartisan organization.