In a sure sign that the rules of fame have been turned on their head, YouTube stars are now making the college graduation speaking circuit.
At Ramapo College of New Jersey last month, YouTube comedian Grace Helbig gave the address, telling students "failures are what make you interesting … and what get you millions of views on YouTube." And last week, as the University of Oregon prepared to send 5,000 new proto-adults out into the real world, YouTube a capella sensation Peter Hollens was on hand to offer graduates his own spin on the prerequisite inspirational advice.
For Hollens, that mainly consisted of an impassioned tribute to the glories of technology which paved his path to viral success.
"If you want to be one of the people leading the charge you must choose to constantly innovate and stay up to date with the newest technology," Hollens told the arena of students and their families (including mine, there for a cousin's graduation). "I am going to deem you the class of innovators, whether you like it or not. Innovation! To succeed you must embrace that word."
What Hollens calls "innovation" sounds a lot like making sure you have the newest version of the iPhone.
G/O Media may get a commission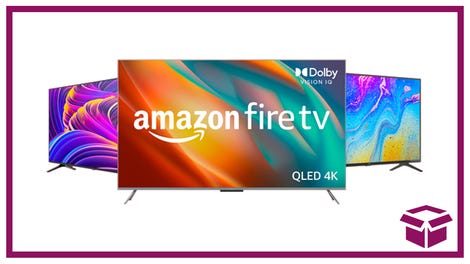 Ooh. stunning.
New Amazon Fire TVs
Hollens is a University of Oregon grad who struck digital gold after an appearance with his college a capella group on NBC reality show "The Sing Off." In 2011, he started a YouTube channel devoted to his own no-instrument interpretations of popular songs, from the Game of Thrones theme music to Katy Perry hits. It now has more than a million subscribers, leading to a record deal with Sony Music last year.
https://www.youtube.com/watch?t=71&v=Ab1zEegFJWg
When you tap a YouTube star for pearls of wisdom, don't be surprised if they spend most of their time praising social media and the disruptive power of technology. (See his full speech here starting at 44:40.)

"Like many industries, the music industry is going through a drastic change. You must constantly reinvent yourself to stay current," he said. "To succeed in the music industry, one must embrace innovation and technology and all the opportunities they bring. This goes for virtually any job."

Of course, putting a YouTube star on the commencement stage makes sense. A survey last year commissioned by Variety found the five most influential figures among American teens were all YouTube stars. Last year, 19-year-old YouTube personality Bethany Mota was the Internet's most Googled fashion designer. This month, YouTube beauty guru Ingrid Nilsen dominated headlines when she came out as gay.
My cousin, an English major and Snapchat aficionado, explained it to me this way (via text message, of course): "A YouTube person is more relatable than a 'celebrity.'"
She loved that Hollens found his way to YouTube fame by just hanging out in his garage and making videos of himself singing.
"It seemed like his level of success was more achievable and realistic since he wasn't some shiny famous person," she said.
The appeal of Hollywood celebrity has always been predicated on the dream that it's the type of success anyone can achieve. YouTube stars make that dream seem even more realistic. But the lesson that might send to new grads is that they just have to hang their diploma on the wall of their garage, set up a camera and watch the millions roll in.
At the airport the next day, I overheard a group of parents on their way back to Oakland still effusing about what an inspiration Hollens was. But while Hollens advised students to never judge themselves by their number of "likes"— certainly practical advice for any twenty-something today — he espoused a vision of success still couched in terms of viral fame. The digital self, he told them, is just as important as the physical self. And technology, of course, can solve any problems they might encounter.
"There has never been a better time to graduate and embark into the world," Hollens told the new grads. "We are now able to crowdsource ideas from social media or get answers to anything we want by simply asking Google or our phone."
He whipped out his phone and asked Siri when the next University of Oregon football game was. The crowd went wild. Then, expanding on the topic of innovation, he read the audience the "Google definition" of the word.
"I believe to innovate means you are constantly learning. Basically to treat yourself like a Silicon Valley startup," he said. "If this 35-year-old father can attract millions of followers and make a living, then you can do just about anything you want."
Before departing the stage, he flashed his YouTube address across the screen.
"If there's one thing I truly want to leave with you today, it's www.youtube.com/peterhollens," he said.