On October 19, 40-year-old Mark Feigin was arrested by the Los Angeles Police Department following an investigation into a pair of obscenity-laced calls he'd made to a local Islamic center—calls that reportedly included a threat to kill the center's members. When the LAPD searched his home, they found an arsenal of rifles, handguns, shotguns, and thousands of rounds of ammunition.
But according to Feigin's lawyers, you can't really blame the guy. After all, he's really the victim here.
In a statement put out last week by attorney Robert Sheahen, Feigin's anti-Muslim rhetoric (according to the Washington Post, his since-scrubbed Twitter account featured messages referring to "filthy Islamic beasts" who should be "quarantined") was simply a matter of "some intemperate comments."
"If anything," Sheahen continued in the statement, "Mr. Feigin was a victim of the toxic national discourse of this political season."
Put it another way: Feigin, according to his lawyers, is just some poor schmo who couldn't help but make terroristic threats against his local Muslim community, because, dammit, Donald Trump is up there saying racist things, too!
G/O Media may get a commission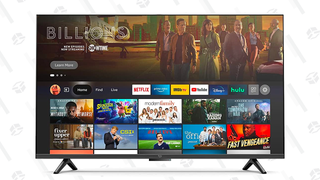 22% off
Amazon Fire TV - 50" Omni Series 4K - Early Access Deal
Hassan Shibly, head of the Florida branch of the Council on American-Islamic Relations, said that wasn't so far-fetched.
"There's certainly a strong link between politicians demonizing and targeting the American-Muslim community and the right-wing media targeting and attacking the Muslim community, and then these unstable individuals being incited to violence," Shibly explained to the Washington Post. "While those individuals must be held responsible for their actions … their actions did not come about in a vacuum."
Speaking with the LA Times, Omar Ricci, a spokesman for the Islamic Center of Southern California, shared a similar sentiment: "Unfortunately, in today's political climate, such hate is not uncommon,"  Ricci told the paper. "We get a call every once in a while. [Feigin's] particular call rose to a different level."
Police, however, aren't buying it.
"With that right [of free speech] comes responsibilities, and one of those responsibilities is that you engage in free speech within the confines of the law," Los Angeles Police Department Cmdr. Horace Frank told reporters at a recent press conference. "Mr. Feigin broke the law when he threatened the lives of the individuals at the Islamic Center."
Feigin is scheduled to be arraigned on November 10. But according to his attorneys, he's already learned his lesson.
"Mr. Feigin now realizes we must work as a nation to put an end to fear and intolerance," their statement read. "Our Islamic brethren must be both protected and respected."