This post is part of Fusion's Teen Month series, a month-long dive into the lives, loves, and language of teenagers.
---
I spent the better part of the last two months keeping a log of every top-trending topic on Twitter that related to One Direction—or former member Zayn Malik—in some way, shape, or form.* I guess that makes the following my "What I Did on My Summer Vacation" essay.
I didn't decide to undertake this endeavor in the hopes of learning anything in particular. I already knew that former member Zayn is cute, that the truth about Larry might never be known, that Naughty Boy's a mess on social media, that Louis is…also there.
My interest stemmed from the fact that these 1D-related hashtags are sometimes so weird and fandom-specific that it's kind of unbelievable that they could have ever been one of the 10 most talked-about topics on Twitter. I mean:

G/O Media may get a commission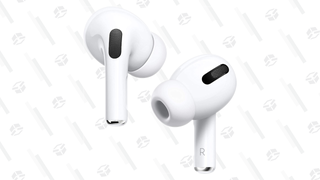 28% Off
Apple AirPods Pro Wireless Earbuds
That's a testament to the power and reach of the "Drag Me Down" singers' legion of fans, also known as the Directioners, that something so esoteric could possibly be talked about that much.
Here's a general breakdown of the trends I catalogued based on what they were about.
The majority of these Twitter trends (57%) had to do with One Direction as a group in some way, ranging from "Appreciation Days" for certain members and On the Road Again Tour stop happenings to #DragMeDownMusicVideo promo.
I decided to separate Zayn-related topics into their own section because, as I'm sure you're painfully well aware, he left the group back in March. The Zayn-related trends that I observed made up 15% of the total.
Rounding out the rest: 12% of the topics related to the Directioners (#GrowingUpADirectioner, #DirectionersFuneral), 9% were focused on other people (Louis' estranged biological father, Troy Austin; Ariana Grande, who some fans believed had disrespected Louis in some way; longtime Zayn collaborator Naughty Boy), and 5% miscellaneously ranged from "Soul Cycle" to a takeover of the @midnight-esque #NameTheNextBoyBand and were pretty much unclassifiable as a group.
I also crunched the numbers to see which current (or former) member of 1D was the focus of the most trending topics.
Harry and Zayn are tied for first with 35% of the topics dedicated to them both. This strikes me as weird, because Zayn did a lot since July: he retweeted shady music facts about his ex-girlfriend's band, he christened his fan army as "ZQUAD," he debuted his upcoming Interview magazine cover. Harry, on the other hand, just kinda endured Larry rumors while touring? Moving on.
Coming in at a close third, 30% of the trends were devoted to Louis, while 17% were about Liam. Niall only made up 4% of the total with a single hashtag: #NiallYourBodyIsWonderful.
Some other stray observations:

12% of the topics originally had nothing to do with One Direction, or they originated outside the fandom. Directioners essentially hijacked these trends. These included the 2015 MTV Video Music Awards (because 1D were seemingly snubbed), #DirectionersFuneral (started by T-ara fans following Billboard's bitterly disputed Fan Army Face-Off), and Soul Cycle (¯\_(ಠ_ಠ)_/¯).
10% related to the boys' romantic relationships, whether confirmed or dubiously shipped. Standout moments included when Liam and Sophia got engaged (#SophiamIsEngaged); when a Louis/Harry sex tape was rumored to exist (#sextapelarry); and when the paternity of Louis' girlfriend Briana's baby was called into question (#WeKnowTheTruth).
https://twitter.com/KUWHES/status/639410782627741696
Speaking of Larry (the ship name for Louis and Harry's long-rumored secret relationship that only a small, but vocal, segment of the Directioner fandom actually believe in), 7% of the topics were Larry-oriented.
While I didn't uncover any bombshells about how, I don't know, former The Wanted singer Max George was the source The Sun quoted in their One Direction hiatus report, this assignment did make me appreciate just how mobilized the Directioners are on social media.
Telling Niall Horan that his body is wonderful or freaking out over Zayn Malik's complete and utter lack of chill are not universal topics of conversation. But the 1D fandom is so skilled at trending these ideas on Twitter—whether by sheer force of number, strategy, or likely some combination of the two—that the obscure nature of such a hashtag becomes moot.
One Direction is literally just one band, and yet almost every day, without fail, some topic about them is trending in the United States. Incredible.
Anyway, that's what I did on my summer vacation. I'm single. ;[
*These Twitter trends were observed and recorded between July 16 — Sept. 2, 2015 in the United States only.
Related coverage:
• One Direction talks new sound and life after Zayn
• Weather alert: Hurricane Zayn is destroying everything in his path
• Here are Vines of fans sobbing over Zayn Malik's exit from One Direction
Bad at filling out bios seeks same.