The first thing you notice about Zayn Malik's new debut solo album, Mind of Mine, released Friday, are the track titles. The deluxe album has 18 tracks, and 13 of them are titled using alternating lower case and upper case letters, LiKe tHiS. Some of these include: "iT's YoU," "sHe," "dRuNk," and "rEaRvIeW"
For many people, it's reminiscent of AIM.
G/O Media may get a commission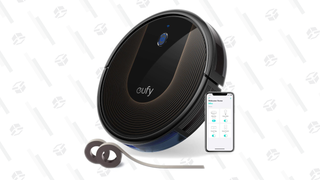 48% Off
Eufy BoostIQ RoboVac
Zayn was born in (take a deep breath) 1993. So he would have been just old enough to experience AIM, the AOL instant messaging system that allowed users to chat in real time—and create away messages. It launched in 1997, when Zayn was 4 years old. By 2006, it had 53 million users. Zayn was then 13 years old, a prime age for early online self-discovery and experimentation.
Zayn hasn't said that the titles were inspired by AIM. Instead he told Beats One Radio that the songs titles are written that way because, "I like the way it looks, so I just went with it—but people are confused by it."
At Rolling Stone, Rob Sheffield calls them "TRL-era titles" and compares them to "Nick Lachey's SoulO, Jessica Simpson's ReJoyce and 2Gether's classic "U + Me = Us (Calculus)." The early 2000s were riddled with alternating case experimentation. And that's not the only nostalgia on this album.
Zayn's breakaway from his previous life as a member of mega-boy band One Direction has already been heavily compared to Justin Timberlake's departure from N*SYNC in the early 2000s. Justin's first album, Justified, was even classified as "pop, contemporary R&B, and soul," the same way Zayn's Mind of Mine is, though Zayn's fits much better into those last two categories. "wRoNg," a mid-album track featuring Kehlani, even sounds like an early Timberlake hit, with its walking bass and layered vocals. Strip it of its synthesizers, and it could pass as a single on Justified.
The ways that Zayn employs R&B on this album is almost a straight call back to the men who made R&B such a sexy radio staple in the first decade of the twentieth century. Zayn's "fOoL fOr YoU" sounds influenced by Chris Brown's 2007 track "With You." For Zayn, R&B is as sweet as honeycomb, as sexy as a first touch. It's Mario's 2004 song "Let Me Love You." It's Ne-Yo's 2006 track "So Sick."
Zayn's certainly not the only young pop star digging up nostalgic sounds to create radio hits in 2016. Listen to Meghan Trainor's "No," currently sitting at no. 12 on the Billboard Hot 100.
The R&B inspired pop with the soft vocal runs are ripped straight from the early 2000s girl group genre of girl-power. This song is Dream's 2001 hit "He Loves You Not" meets Stacie Orrico's 2003 debut album meets Mya's 2003 track "My Love is like…Wo"
Or listen to Ariana Grande's first single from her forthcoming album Dangerous Woman.
Here, too are obvious early-2000s callbacks. Ariana Grande has mentioned that she's working with Macy Gray on this album, and in this first single you can hear the same vocal runs, the same R&B rhythms as Gray's 1999 hit "I Try."
All three of these artists are under 25 years old. Deliberately or not, they are creating direct references to the music they grew up on, and Zayn's FuN TeXt is just the most obvious example of that.
Kelsey McKinney is a culture staff writer for Fusion.