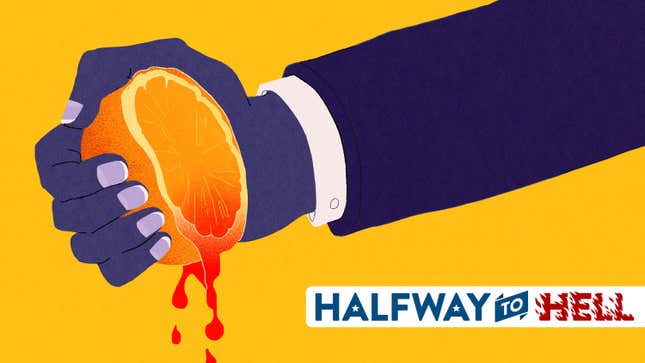 With its floor-to-ceiling glass wall and terrace overlooking hills full of Spanish tile-topped mansions, the community center in Irvine where Democratic House candidate Katie Porter recently held a campaign event seemed more like a venue for a posh political fundraiser than a typical town hall. Not that the residents of California's 45th Congressional District would know what a typical town hall is like—the district's current Republican representative, Mimi Walters, has refused to hold one in person since before her 2016 re-election, opting instead for intermittent Skype events with constituents.

Walter's high-tech, low-effort nod toward democratic accountability hardly seemed to impress rankled constituents: one petite retiree in a handmade "Nasty Woman" T-shirt told me about how she once attended what she believed would be a traditional town hall, only to discover Walters wasn't even there.
When Walters isn't avoiding public forums, she's voting in lockstep with President Trump—which apparently made around 100 voters angry enough to turn out to hear out a Democratic candidate in one of the most historically conservative swaths of the country.
In her bid to unseat Walters, Porter has pledged not only to hold quarterly, in-the-flesh town halls, but has been endorsed by the Congressional Progressive Caucus, which is made up of the party's most liberal legislators. She regularly discusses her legal work going after big banks, and was endorsed by End Citizens United for her pledge not to take corporate PAC donations and instead court small individual contributions from voters statistically likely to afford it—the district's average household income is $93,000—and from outside observers hanging hopes on a progressive win. "$14 is our average contribution," Porter told the town hall crowd. "You've heard of Bernie Sanders' $27? Well, I like to call him 'Big Bucks Bernie.'"
The comparison to the Vermont senator was a tiny bit off. Porter's most enthusiastic Senate supporter isn't Sanders, but the ascendant progressive Massachusetts Sen. Elizabeth Warren, who taught Porter in law school. The evening attendees surely heard echoes of Warren, her famous mentor in Porter's unabashedly progressive platform, such as her advocacy for consumer protections, campaign finance reform, and Medicare for All.
But just in case anyone forgot they were in Orange County and not Massachusetts, one woman got an applause break during the Q-and-A when she stood up to say, "I just want to say how wonderful it feels to be out in public with Democrats!!!"
For the so-called "blue wave" to happen this year, most analysts agree it needs to cascade through places like this one: districts currently represented by Republicans which went for Hillary Clinton in 2016. There are 25 such districts in the country, and four of them include part or all of Orange County. Most of these districts are highly educated, well-off, and suburban—a demographic which has been integral to the GOP base in the past, but has gradually tilted leftward in recent years. As former Clinton aide Brian Fallon put it last year, the path for Democrats to take back the House "runs through the Panera Breads of America"—and by Yelp's count, the OC has 15 of them.
But if scooping up the casual dine-in contingent is a numerical imperative in the fight to halt the Republican Party's march toward gilded dystopia, it's less clear what exactly an agenda shaped by this coalition may entail. For the Fallons of the world, the key to winning Panera votes is something akin to the same market-friendly pitch the Democratic Party has been slinging for decades—an appeal to the consciences of well-heeled voters that won't challenge the structures that produced such an unconscionable state of being. Of the four districts seen as the most flippable in Orange County—CA-38, CA-39, CA-45, and CA-49—three nominated Democrats are from the middle of the primary pack; only Porter won as the most progressive candidate in her race. But her messaging seems to be resonating: FiveThirtyEight gives her roughly a 60 percent chance of vanquishing the Republican incumbent.
And as the Democratic Party sets its sights on suburbia as the best route out of Trumpland, Orange County offers an alternate blueprint—not just toward victory, but how to use it once it's won.
---
With its balmy weather, coastal beaches, and sprawling accommodations for single-family homes, Orange County looks a lot like the American Dream's bonus level—a vision further entrenched by pop culture owing to its plethora of convenient filming locations near Hollywood. But the politics of Orange County have always more or less boiled down to rich people getting theirs.
Early settlement sparked a bitter turf war between speculative landowners and poor squatters in the 1870s, according to Phil Brigandi's Orange County Chronicles. At the time, the area was part of Los Angeles County; a decade later, the push to incorporate a separate county was led by business owners who'd grown tired of commuting by carriage for official matters in L.A.
Like much of the rest of the state and country, Orange County went for Franklin Delano Roosevelt in his first two runs for president. But once they got a load of FDR's New Deal, the county supported Republican Wendell Wilkie in the 1940 presidential election. It stayed that way for 76 years.
Until quite recently, in fact, the O.C. loomed large in the Republican imagination. During stump speeches, Ronald Reagan allegedly joked it was where "good Republicans go to die." Richard Nixon was born there, and John Wayne was a resident while also the face of the John Birch Society—an arch-conservative cult largely relegated to fringe status in the 1970s, but which more or less resembles the GOP establishment today.
But as you've surely already heard, 2016 changed everything: After a 19-election Republican streak, a plurality of Orange County dwellers voted for Hilary Clinton, their first Democratic presidential pick since Roosevelt in 1936. The flurry of articles attempting to explain it zeroed in on the county's shifting demographics—a slight majority of the population is now Asian-American or Latinx—as well as a reaction against the misogyny, racism, and xenophobia that the Trump campaign laid aggressively bare, rather than discreetly tucked beneath a veneer that would fit in at a garden party.
Two months later, the liberalizing streak continued. The Women's March in Santa Ana turned out some 20,000 people, exceeding expectations of even the most optimistic onlookers. Among them was Lita Rubinow, a lifelong Democrat who moved to Irvine three decades ago and recalled finding herself in a community so conservative that one of her daughter's grade school teachers wrote a distressed letter home wondering why the two had different last names.
30 years later, the community feels like it's in the midst of a sea change. "It gives me chills just to think about it," Rubinow told me one night by phone.
She came to Santa Ana the day of the Women's March with a box full of T-shirts printed with the logo for "DemOC," a Democratic PAC she founded 10 years earlier back when no one—seemed to notice there were any Democrats in the area. But now there were thousands in one spot, and they were eager to be seen. "I brought about 100 shirts with me," Rubinow recalled. "I couldn't even pick my head up, people were buying so many…and when I finally did, I just looked up and cried."
Since then, DemOC has worked to pool and direct its members' dues to Democrats running in flippable districts across the country. They've run voter registration drives, which one volunteer named Julie Tapp told me added some 2,300 students to the rolls through outreach at local high schools. And while DemOC has managed to turn out a few dozen canvassers daily for Democrats in each of Orange County's toss-up races, Tapp says that no candidate has attracted more volunteers than Katie Porter.

Tapp and other volunteers with Porter's campaign told me they try to divvy up territory to target doors of the so-called "NPPs"—a contingent of registered voters expressing no party preference, whose ranks have increased in recent years as the number of registered Republicans has fallen by a third since 2000. As it happens, those identifying with neither party could be particularly amenable to a different kind of Democrat like Porter, who secured a primary victory without the endorsement of the Democratic establishment.
Gio Chavez, the Orange County regional director of the California Young Democrats, said that young people could fall in that category—he's noticed his peers seem to feel alienated by both parties (albeit not, perhaps, in equal measure). They're also slated to vote in far higher numbers than they have in past midterm elections. "Katie is a new type of candidate we want to see," Chavez said, by taking bold policy stances on issues like healthcare. "I would say young people wouldn't support a Democrat who didn't support single-payer."
Another group Chavez believes could be won over by the appearance of steadfastness is Latinx people, with whom Chavez said Democrats have done too little to engage. A willingness to stand tough and reject right-wing anti-immigration sentiment will be pivotal in cultivating these relationships; many Latinx people assert that the current slate of Democrats in Congress appeared all too willing to sell them out on to make deals with Republicans. Ultimately, whether the new Democrats emerging in OC can develop deep partnerships with this growing community depends on their commitment to outreach year-round on so-called "kitchen table issues" that speak to their livelihoods in concrete ways.
Demographic changes and voter registration trends aside, conventional wisdom still touts the idea of violet suburbs of America turning blue with the help of defecting Republicans pushed to take a moral stand. The latter scenario has perhaps been overemphasized: According to recent estimates, recent Democrat-to-Republican turncoats outnumber Republican-to-Democrat switchers by nearly 3 to 1.
Nonetheless, the contingent is so small that the average upper-income Trump voter still looked overwhelmingly like those who voted for Romney. That districts on the verge of flipping—like those in Orange County—reflect good Republicans' surging crises of conscience is an undeniable overstatement. Districts don't only flip because many individuals do; they flip because different people show up at the polls. This is largely what happened last winter in Alabama, when expected Republican voters sat out the special election rather than vote for an accused child molester like Roy Moore or his Democratic opponent Doug Jones (whom a strong turnout of black voters helped elect).
Republicans know this—that's why they've spent so much energy in recent years aggressively disenfranchising poor people of color. Democrats need to realize it too, particularly because non-voters tend to be more liberal than their poll-going peers.
---
No Democratic candidate in Orange County has gone after swing voters more intently than Harley Rouda, a real estate developer who is running exactly the kind of campaign in CA-48 you might undertake if you wanted to oust a 16-year incumbent—in this case, Republican Dana Rohrabacher—on the backs of Humbled Republicans Who Have Simply Had Enough. Several recent campaign ads featured reasonable Republicans pledging to vote for him. After all, Rouda used to be a Republican himself; he even donated $1,000 to John Kasich's 2016 presidential campaign, which he's defended by claiming the gift was a show of friendship, not political support.
While his communications director told me by phone that Rouda has been turning away from the GOP since the 1990s, Rouda still intermittently trots out his former affiliation as a credential. "When I started this, I went to talk to a group of activists and they said, 'You look like a Republican," he told a meeting of progressive activists early in his campaign, according to the New York Times. "They didn't think that was a bad thing. Neither do I."
Rouda has repeatedly declared his desire to reach across the aisle, and make a name for himself as a "bipartisan problem solver" in Washington. FiveThirtyEight rates his race as a highly competitive tossup. But unlike Katie Porter, whose messaging has centered on her small individual donations, Rouda spent over $1 million on his own campaign. (Both candidates emphasize their rejection of corporate PAC money.)
At a recent town hall in Huntington Beach, I joined over 100 people in a community college lecture hall to hear Rouda make his case for moderation. "The problem is that both parties put party first, country second," he explained. "Most Americans are between the 20 yard lines." Back in 1980, he explained, the parties were more evenly dispersed across the political spectrum—there were liberal Republicans, conservative Democrats, and people who feel in-between them. Today, there are none.
He was technically right, but missing some crucial context—the extreme polarization he lamented has really only gone in one direction. Democrats and Republicans haven't retreated extremes; rather, Republicans have lurched far to the right even as Democrats stayed relatively put.

So at this point, I did something I know you're not supposed to do when covering a campaign event as a journalist: I tried to challenge him without identifying myself as a journalist. (There was a sign when I arrived indicating that "Filming and press must be pre-authorized"—the same thing that democratic socialist Alexandria Ocasio-Cortez caught flack for earlier this year—but there was never a place to indicate myself as a journalist on the event RSVP form, and it seemed awkward to preface my question that way.) When I finally got the Q+A mic, I emphasized that the consensus among political scientists is that today's party polarization is asymmetric.
Many people in this room today, I continued, are here because they're rightfully horrified by the reactionary cruelty of the Trump administration—and they may well be skeptical that the solution to such horrors is to cooperate more with the Party behind them. Then, I did that awkward thing where I convert a statement into a question by tacking on a, "So…how do you respond to that?"
But he doubled down. We'll never get out of this if we insist on blaming each other, he told me. So let's not get caught up in who's more at fault, and focus instead on finding "common sense and common ground." A handful of attendees started clapping, as if to clarify their affiliation with Team Rouda over Team Me. (They would've clapped 10 times harder had they known that I'd never set foot in Huntington Beach before.) Indeed, the room as a whole seemed receptive to his message of civility and cooperation. One attendee even addressed him as "Mr. Congressman," qualifying it with, "I know you aren't elected yet, but I want to be the first one to call you that!"
And I get that! I'm not even a constituent in one of these districts; none of those candidates have to appeal to me. But the reason that flipping the House (and everything else, please!) is important is because the people at the helm of our political system deeply affect all of our lives. Their decisions determine who suffers and who thrives. And I can't imagine how anyone could survey this political moment—with marginalized people persecuted, caged, and denied bodily autonomy, as millions struggle to afford basic survival amidst unprecedented ruling class plunder—without seeing that the Republican Party has been the single greatest force behind it. I do want to blame them. They are the problem, not the solution. And trying to recruit voters who basically like everything about the GOP except the horrifying influx of Nazis demands too many compromises from Democrats to be remotely worthwhile.
That's the dilemma in Orange County and in many places like it across America: peeling off Republican voters with earnest appeals to centrism does nothing to check the right; at the same time, using the language of class war risks alienating the privileged voters who dominate districts like Rouda's and Porter's.
This is the line that Porter straddles: hers is a fairly standard progressive platform, repackaged for the McMansion set. Her case for Medicare for All centers on deteriorating employer-sponsored insurance and small businesses' healthcare costs, rather than the uninsured. On the topic of housing, she highlights local victims of the foreclosure crisis more than tenants' rights. She rails against the GOP tax bill by focusing on the elimination of state and local tax deductions, which seriously increased the tab for high-value property owners in higher-tax states. (Guess which communities are going to feel that one?)
Ultimately, the only way to stop the right's insatiable quest to monopolize all wealth on Earth is to build a broad grassroots movement that demands universal equity and dignity for all, and somehow forces the powerful to capitulate. But that's an awfully tall order for a midterm election. An election is no substitute for a political movement—it's a mechanism to pursue its goals.
And in that narrow sense, the most promising exit ramp out of the Trump era from Orange County may well be a candidate like Katie Porter. And it's not because her messaging is more innately capable of inspiring Republicans to see their long-lost humanity—it's because their plutocratic project is now in the phase where just-barely-rich people are hurt by it, too. This week, we'll see whether or not they realize it yet.
---
Natalie Shure is the Head of Research for Adam Ruins Everything on TruTV. She's written about history, health, and politics at The Nation, Jacobin, Pacific Standard, and elsewhere.