A panel of three federal judges ordered that North Carolina lawmakers redraw the state's "unconstitutional racial gerrymanders" by September — two months earlier than the legislators had originally sought.
Last year U.S. District Judges Catherine Eagles, James Wynn, and Thomas Schroeder, found that Republican lawmakers had illegally redrawn North Carolina's voting districts to weaken black voters' influence. The U.S. Supreme Court upheld their ruling, finding that GOP lawmakers had intentionally restructured 28 out of 170 voting districts along racial lines.

The panel unanimously ruled that Republican lawmakers were essentially dragging their feet in redrawing the gerrymandered districts on Monday night. One of the judges asserted that Phil Strach, the attorney representing state legislators, was not serious about correcting the districts.

"You don't seem serious, so what's our assurance that you are serious about remedying this," Eagles asked Strach at hearing towards the end of July, as reported by The News & Observer.

From Monday night's order:
We also agree that constitutionally adequate districts should be enacted as quickly as possible to protect the rights of North Carolina citizens and to minimize any chilling effect on political participation attributable to the continued absence of a districting plan in the face of a finding of unconstitutional racial gerrymandering.
G/O Media may get a commission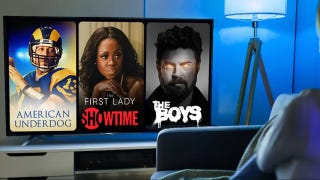 UNDER $1
99¢ Prime Video Channels
Monday night's ruling didn't wholly benefit North Carolina voters, however. Previously, voters had sued the General Assembly for a special election after the gerrymandered districts were redrawn. Lawmakers fought the special election and the U.S. Supreme Court intervened to prevent a March election from occurring. The panel of federal judges upheld the Supreme Court's decision and ruled against a special election.
So North Carolina voters will not get the special election they petitioned for, but their voting districts will be constitutional, stat. But, voters will not be able to cast ballots in restructured districts until November 2018. It seems unlikely that North Carolina lawmakers will be able to maneuver their way out of this ruling.
But, it's unclear if the GOP-helmed state legislature is actually serious about remedying the unconstitutional districting. As The News & Observer noted, Republican lawmakers have asked Tom Hofeller to redraw the districts. There is one giant, gaping problem with their choice: he is responsible for drafting the unconstitutional districts in the first place.